Being a parent is a great responsibility. Cleaning may not be the most pleasurable activity in a day for a mother. But to keep your family healthy, a few minutes served for cleaning and disinfecting children's toys and accessories are worthwhile to reduce the microbial load especially in the play areas. 
To make playpens a healthy place, you need to know how to clean and disinfect a pack and play at least once in a while. In this article, you will get a detailed guide on how to clean a pack and play? Since this is not a hard thing to accomplish and helps to prevent the spread of germs.
In the COVID-19 pandemic, it is recommended to clean, disinfect and sanitize children's supporting devices and toys are a big concern for parents. Preferably, every two weeks cleaning may decrease the risk of spreading germs for your little germ magnet. So, if you have a baby or you are planning to have one. You surely are familiar with what a pack and play are.
These incredible, portable and easy-to-use playpens are considered to be secure spaces for your little infant to play. It provides a valuable accessory for babies and toddlers. Mothers can put them safely in the playpens for a certain time to complete their few house chores.  You can check the 10 best playpens for babies
On the other hand, they are also the greatest hoarders of filth and dirt that you can ever witness out of your entire little one's equipment.
Best way to clean a pack and play
It is vitally important to keep hygiene at home when you have your little ones because they put everything in their mouth. Chances are they become unwell and may carry plenty of germs. As babies of underage three are potentially at high risk of infectious diseases.
Baby playpens are the ultimate room, where your babies can nap, drool, sweat and ease themselves. Although, there are many playpen options, after selecting and using any of them, parents wonder "how to wash a pack n play?" and how to keep it free from mold and mildew.
You can use different approaches for cleaning a playpen. It totally depends on your preference which method you choose. Depending on how deep you want to cleanse your particular playpen net and playpen mattress. 
But, It is also important to know how to clean the netting on a pack n play with some intricate pieces of playpens require you to be acquainted with such as "how to put together a pack n play" after washing. 
Methods: Pack and play cleaning hack 
To learn how to clean a pack and play follow these main three methods of cleaning, disinfecting and sanitizing your baby's pack n play.
1. Scrub it thoroughly
Firstly you need:
This might be the easiest and quickest method of cleaning a playpen. However, for effective scrubbing, you will need to place your pack and play in an area where you don't mind getting a little wet.
After that, take off your playpen's mattress cover and put it in the washing machine. Subsequently, take out the actual mattress. Use the solution and scrub every corner of your pack and play.Once scrubbed, you can wash the entire playpen thoroughly. Afterward, place it out directly in the sun. Make sure to air dry completely before using it again.
2. Deep Clean 
If your little one loves to spend more time in pack and play, chances are it gets dirtier than often.  And of course, your baby will eat food or make a mess in it. Your baby's playpen requires sanitizing as well right after deep cleaning.
how to clean a pack and play mat?
Because babies are great explorers and they typically use the sense of touch for this. So, if your baby is sick, sneezed, and coughs then you should disinfect your baby's pack and play.
To do this, take out the playpen net and mattress. Fold the playpen frame and soak it in the bathtub. You can fill the bathtub with:
A warm water
Half cup of baby safe laundry detergent
One-fourth cup of organic baking soda
And lastly, one-fourth cup of simple vinegar
Mix all the above ingredients well in the bathtub and soak your baby's pack and play mattress for at least an hour. You can also use a soft brush to scrub the toughest stains. Surely it came out and you will get your renewed play yard again.
Most importantly, after that drain, the bathtub, rinse thoroughly and let it dry in the bathtub first and then place it outside to completely dry up.
3. Consistent Spot Cleaning
The final suggested method is best suited for stay-at-home parents. This method of cleaning ensures a well-maintained playpen as long as possible. It eliminates the need for deep clean.
For this you will need: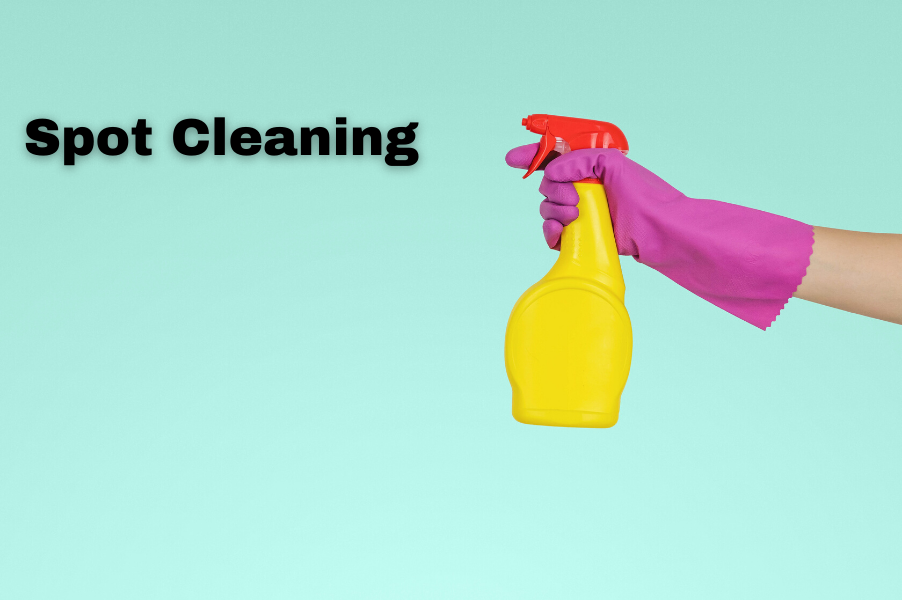 A spray bottle
Make a mixture of half water and half vinegar
You can also use mild baby laundry liquid
How to clean a pack and play bassinet?
First of all spot a stain or spillage mark on the pack and play net and mattress, dap that area and afterward use the mixture to spray and clean the spot gently.
Prerequisites of cleaning a pack and play
1.  Read the instructions carefully
As a new parent, one thing that you should keep in mind is not to lose the pack n play cleaning instructions. That usually comes when you buy a playpen or play yard for your baby. Reading these instructions before starting the cleaning process will save you from making any big mistake that could make your playpen unusable.
Sometimes, the products are maintained at standard temperature. However, using too hot water may cause mattress or fabric damage. Therefore, you should use only cold or normal water for cleaning purposes. Is precaution better than treatment right?
2.  Need to check the weather
It may sound irrelevant, but it is actually very necessary to check the weather updates for the coming few days when you plan to wash your baby's playpen.
Because after washing, your pack and play parts need to be air-dried. It means you require clear and dry weather if you want to prevent a playpen mattress from developing mold in the hidden corners.
But in case you confront rain while cleaning, it's better to use a heater to dry it quickly to reduce the risk of growing mildew.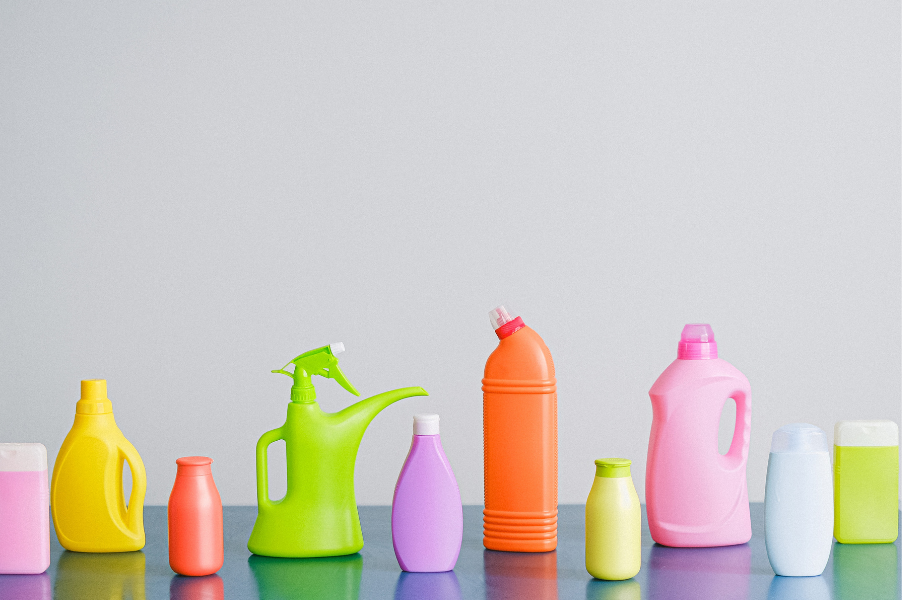 3.  Organize the cleaning products
Selecting the cleaning products for the tidiness of your baby's items is as important as choosing the right baby product. Although chemical cleaners and sanitizers are used to clean your pack and play for removing communicable diseases, they are potentially harmful and aggressive to your children, mainly when they are in concentrated form.
These chemicals can reside in fabrics if you don't wash them properly. Thus, it is recommended to use organic or less toxic homemade products for cleaning purposes. To make them, you can use baking soda for scrubbing, liquid baby soap and vinegar for cutting grease. I hope these prerequisites help you to learn how to clean a pack and play. 
Use the following cautions with these cleaning products to wash a pack and play:
All the cleaning products must be placed out of the reach of your babies.
The diluted sanitizers must also be inaccessible to your little toddlers. 
Must be stored in the original labeled bottle.
Avoid spraying disinfectants when babies are nearby, it prevents inhalation and skin exposure.
Why is cleaning the playpen is Important?
Mostly mothers with messy toddlers wonder how to clean a pack and play? Well, It is crucial to clean your baby's playpen because with use, it gets pretty dirty with milk spills through baby bottles and is a place to spread germs. According to the American Academy of Paediatrics, baby accessories and toys must be washed regularly to prevent the accumulation of dirt and the spread of microbial diseases.  
Benefits to clean a pack and play mat
Routine cleaning with DIY or brand products helps to remove dirt and stains.
It reduces the chances of building up mildew and mold in the mattress of the play yard. 
After cleaning, sanitizing eliminates a minute amount of germs from the surfaces where your babies spend most of the time in a day.
Not only pack n play, but your baby toys also need to be disinfected to kill germs. If you are unaware of safe baby cleaning products, then you can consult with your regional pediatricians from PEHSU.
Final Conclusion
Almost every parent has some kind of pack and play for their babies. These cribs not only provide a safe place for babies but a comfortable resting spot too. You can keep an eye on your little infant while winding up some house chores.Therefore, it is essential to know how to clean a pack and play mat regularly.
Because if you don't bother about the little messes or stains, it will turn into a big magnet for fungus and bacteria.There is no particular schedule to clean a pack and play. But it requires spot cleaning as many times as possible to make it germ-free.  I hope you can pull over how to clean a pack and play to make a healthy place for your baby.
Parents Also Ask 
How do you remove mildew from a pack and play?
You can remove mildew through air drying your pack and play after washing, preferably directly in the sun.
How to clean a pack and play with bed bugs?
Bed bugs are the bloodsuckers, they can hide and infest in mattresses, couches, box springs and headboards. To get rid of it from your baby's terrority like a pack and play is a daunting task. But there are few non-toxic and effective methods to remove bed bugs such as: 
Wash everything in hot water like a playpen mattress without a hardboard, mattress cover, blanket and playpen net. Beacuse bed bugs hate high temperatures. For this, you can use a bathtub full of hot water mixed with baby detergent.

Steaming everything is another natural way to remove bed bug families from sheets, covers and mattresses.
Can I let my baby sleep in a pack and play?
Yes, pack and play are federally regulated for baby sleeping as other cribs and bassinets. But keep in mind few things:
For new born babies or under 15 lbs, make sure to use a  bassinet attachment that comes with pack and play. Instead of laying your baby directly at the bottom. 

However, pack and plays are safe for babies to sleep but they are not bound  to be used for every night. 

Make sure your pack and play is properly assembled.

With more usage, check the structural integrity as it may start crumbling.
When should I get rid of the pack and play?
You should stop using your pack and play when your baby reaches up to the age of 2 to 3 years, weighs 30 pounds or 35 inches in height. At this point, your baby is able to climb over the walls of your playyard. 
Because they can be frustrated due to their restricted movements and want to come out. This can be harmful for your little one. Therefore, it is better to watch your baby's reaction inside and guess the clues to get rid of your pack and play.
How to clean a pack n play in the winter?
Not every parent has the adequate open space for deep cleaning of pack n play and then to make it air-dry. It may be also challenging to clean, pack and play in the winter but it is not impossible . So, it is recommended to do regular spot cleaning until spring comes, wash mattress cover, use a clean damp cloth and homemade cleaning pack and play hack products for spillage and mark removal.