Most parents know that a bottle warmer is a must-have for quickly heating baby bottles. But what happens when it needs to be cleaned?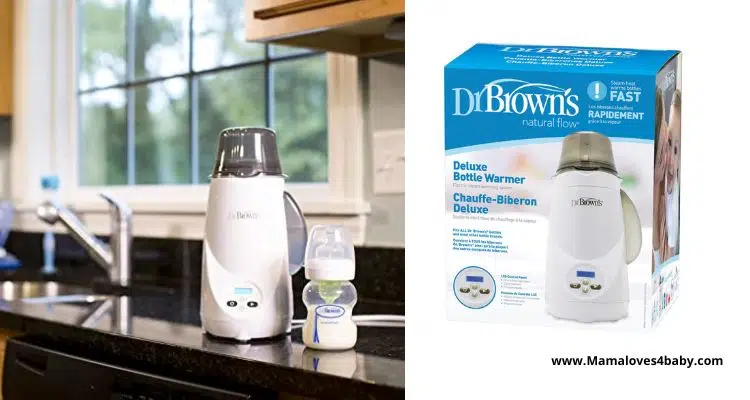 Dr. Brown's is a firm specializing in baby bottles and accessories. All the premium versions of bottle warmers warm most brands' baby bottles efficiently and quickly. Cleaning your Dr. Brown's bottle warmer is a simple process that only requires a few minutes of your time.
You can also check detail review of 7 Best Bottle warmers for Comotomo bottles, But before that let's explore how to clean dr brown bottle warmer.
Follow these simple steps to clean your Dr. Brown's bottle warmer and ensure it's ready for its subsequent use!
Brown's Deluxe Baby Bottle Warmer
This innovative bottle warmer features steam heat technology for quick and consistent heating. Thanks to its adjustable basket, you can warm milk in several sizes of baby bottles and food jars quickly.
It has a huge water tank with excellent warming efficiency that allows you to have a lot of heating cycles without worrying about refilling. Dr. Brown's offers useful memory features for different heating times that you can regulate according to your bottle size.
Always reference the estimated time for the quantity of liquid you're warming, not the bottle's size. Must follow the warming instructions.
This stylish-looking model has a fantastic LCD control panel that shows the heating times. With a one-push start button and an easy-to-touch keypad, this modern and straightforward design bottle warmer is all that you need!
Knowing parents how to clean the dr brown bottle warmer reservoir is also essential for complete hygiene. It has a translucent water reservoir that can be easily clean with mild dish soap.
Moreover, if you forget your dr brown's bottle in the warmer, don't be stressed because Dr. Brown's Deluxe bottle warmer has audio and visual indicators to make you attentive when food is ready.
Furthermore, it is also the best bottle sterilizer for baby bottles. Sterilizing bottle items will reduce 99.9 percent of bacteria. And, it will warm in just 6 minutes.
Following the guidelines below, safety precautions should be followed when using warmers for warming baby food.
Read the full manufacturer instructions to learn how to clean bottle warmer.
Avoid touching hot surfaces such as the heating chamber. Use knobs or handles.
To guard against electric shock, don't put the cords or plugs into water or any other liquid.
Keep a close eye on the bottle warmer when using it with children or near them.
Keep the bottle warmer and cord away from children younger than three. Remove the outlet plug during times of no use and before cleaning.
Cool before taking off or putting on components.
Don't place it close to the flame of a hot electric or gas burner or in a hot oven.
Before serving, ensure that the food is at a suitable temperature.
It is crucial to avoid warming food for extended durations.
Before feeding, take just a few drops of liquid contents from the bottle to the palm of your hand to check the temperature.
This dr brown sterilizer and bottle warmer serve you the fastest warming and automatically shuts off after eight minutes. This feature prevents overheating when running warming cycles. Nevertheless, as many great things have drawbacks, this bottle warmer is also unsafe for glass bottles or baby food containers because the steam heat technology may risk bottle breakage when used at maximum settings.
Step by Step Guide: How to clean dr brown bottle warmer
To ensure your baby's health, One of the most critical actions you can take is ensuring the bottles are fresh and clean.
It means regularly cleaning both the bottle and the nipple, as well as any other parts that may come into contact with milk or formula.
Want to read a guide on how to wash dr brown bottles?
One of the easiest ways to clean a bottle is by using a bottle warmer. However, if you don't know how to use it properly, you may not be getting all the dirt and gunk out. Here's a quick, helpful guide on how to a clean dr brown bottle warmer.
To clean your Dr. Brown's bottle warmer, follow these simple steps:
1. Unplug the bottle warmer from the powerpoint and allow it to cool completely.
2. Remove the water reservoir and warming basket and discard any remaining water.
3. Wash the water reservoir with warm, hot soapy water and rinse thoroughly.
4. Cleanse the exterior of the unit using the help of a damp cloth.
5. Fill the reservoir with fresh water and reattach it to the unit.
6. Connect the unit again and switch the unit on
7. Place an empty bottle in the warmer and run it through a heating cycle.
8. Discard the water from the bottle and repeat the heating cycle with fresh water.
9. Your clean bottle warmer is now ready for use!
By learning how to clean dr brown bottle warmer, you can easily maintain and clean baby brezza bottle warmers.
De-Scaling of brown's bottle warmer using white vinegar
The bottle warmer should be removed every four weeks to ensure it functions effectively.
Pour the remaining water from the reservoir and chamber before de-scaling the warmer bottle and removing limescale deposits.
Mix 2 ounces of white vinegar and 4 ounces of cold water into the reservoir.
Use the dr brown's bottle warmer as typically would using the distilled white vinegar mixture Vinegar is a natural solution to reduce grease and act as a mild disinfectant.
How to clean bottle warmer: Precautions to take
There are some points to remember while cleaning Dr. Brown's bottle warmer:
1. Always unplug the unit from the power outlet before beginning any cleaning tasks.
2. Be sure to clean all parts of the warmer, including the water reservoir, exterior, and heating element.
3. When washing the reservoir, use only warm water and mild soap. Avoid using any harsh chemicals or abrasive cleaners.
4. After each cleaning, test the bottle warmer by running an empty bottle through a heating cycle. It will help ensure that the unit is functioning correctly.
5. Always follow the manufacturer's instructions when cleaning your bottle warmer.
By following these guidelines, you'll be able to maintain Dr. Brown's bottle warmer in good condition. Regular cleaning will help prolong the unit's life and ensure it is always ready to use when needed.
Conclusion: How to clean bottle warmer
It is essential to clean dr brown bottles and the dr brown bottle warmer regularly to prevent bacteria build-up and ensure that your baby's food remains sanitary. Looking for a safe and easy way for how to clean a Dr Brown Bottle Warmer? Follow these simple steps. Not only will this help keep your bottle warmer, clean, and bacteria-free, but it will also extend its life span. Try these tricks the next time you have to cleanse your bottle warmer!