Your baby is constantly struggling with stomach pain, gas, and acid reflux? No worries, fortunately, baby bottles for acid reflux are there to overcome your child's misery before you try any medication. The proper feeding baby bottles for acid reflux is all that you need. New parents unaware of bottles for reflux can now benefit their children and make them more comfortable.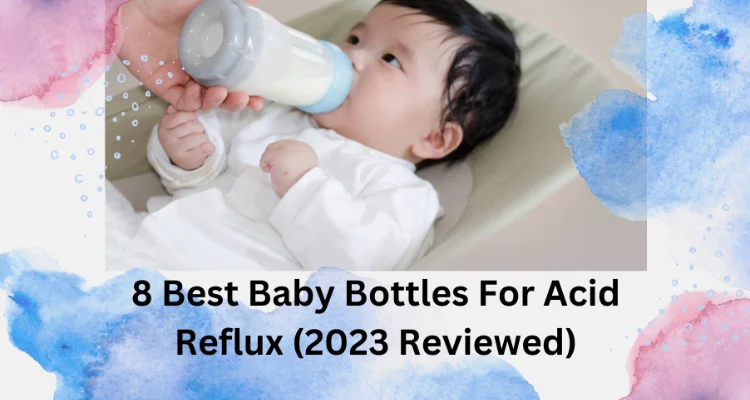 After testing several bottles and teats for the first child, I finally came up with a bottle that improved her feeding, reduced her colic pain, and let her restful sleep for long hours. 
How can I soothe my baby's reflux?
To comfort your baby's reflux, parents must feed them in an upright position, burp them, do less frequent feedings, use loose diapers, switch the best milk for acid reflux and put them to sleep on their back.
In this article, I have curated the eight best baby bottles for acid reflux that will work like wonders to soothe your child's fussy tummy and ease your discomfort and handling during such situations.    
The role of these anti-reflux bottles is now making a benchmark with practical designs, anti colic venting system, baby-friendliness, and ease of wash. Therefore, parents can now know what is colic and how to cure it?
8 Best baby bottles for acid reflux
Let's dig further into the features and functionality of these best bottles for gas and reflux. How they work to eliminate the reflux symptoms, what makes them so helpful, and how you can choose them.
1. Evenflo Feeding Advanced Angled Vented Bottle( Best bottle for acid reflux)
| | | | |
| --- | --- | --- | --- |
| Specifications |   |   |   |
| Number of parts                                     | 3 | Bottle Material                              | Plastic |
| Available Colors                | Teal/Navy/Gray | Bottle mouth                               | Narrow |
| Available capacity                              | 9 oz | Bottle weight                       | 0.56 pounds |
Evenflo angled vented bottle are among the best bottles for babies with acid reflux. Parents should position their baby correctly during and after feeding, preferably in an upright position to avoid backing milk from the stomach and discomfort.
Like Playtex, Evenflo also realizes the need to provide this unique angled shape to the feeding bottle, so if parents forget to place the baby in the correct position, they will not suffer later. The main perk is the venting technology in this anti-colic bottle. 
Do Evenflo bottle help with gas?
Its 1-piece venting system in the nipple shape impedes air bubbles from making their way to the baby's tummy. It subsequently helps to reduce gas and fussiness. Its bottle nipples are silicone made, soft, non-collapsible, and rapidly vent.
Your little one remains comfortable after feeding and duplicating you. Because these best bottles for colic and reflux do not require any complicated cleaning process, you can wash them in the dishwasher and get relief from busy parenting. 
Suppose you want a feeding bottle in a small size like a 4oz, without angles shape. In that case, you can try Evenflo Feeding Premium Proflo Vented Plus Polypropylene Baby Bottles that serve the exact solution for your reflux baby.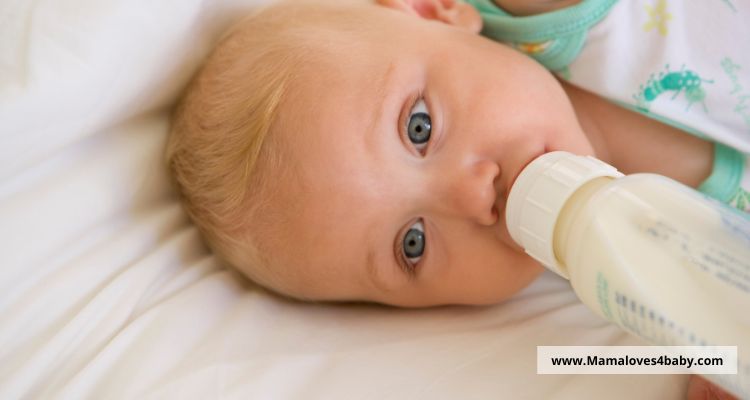 2. Dr. Brown's Options+ Wide-Neck Anti-Colic Baby Bottle ( Best bottle for gas and spit up)
| | | | |
| --- | --- | --- | --- |
| Specifications |   |   |   |
| Number of parts                                     | 6 | Bottle Material                              | Plastic |
| Available Colors                | White | Bottle mouth                               | Wide |
| Available capacity                              | 5 oz,9 oz | Bottle weight                       | 1 pound |
These are the best bottles for colic and reflux for those who prefer wide-neck bottle. Dr. Brown's Options for bottle feeding are versatile. It includes both glass and plastic bottle with different size availability. 
I highly recommend their feeding bottle range because their nipples greatly mimic their mother's breast. It provides a proper latch so your baby will have a natural feeding experience without swallowing air, and you will not face nipple shape rejection by your dear ones. 
However, babies with gas pain will avoid feed and remain with empty stomachs. This situation makes your baby's fussiness even worse. But with these innovative best bottles to reduce gas through top to bottom removable anti-colic vent system, you will see a considerable improvement in your baby's discomfort. 
These best bottles for reflux facilitate good digestive system and healthy feed. Therefore, your baby with a full stomach will sleep happily.
Can Dr. Brown bottle be used without vent?
Yes, when your baby develops a feeding habit, you don't need to switch to another bottle. Just take out the vent from dr brown bottles for reflux, and you are good to go. 
3. Chicco Duo 5oz. Hybrid Baby Bottle( Best bottle for reflux)
| | | | |
| --- | --- | --- | --- |
| Specifications |   |   |   |
| Number of parts                                     | 4 | Bottle Material                              | Plastic and Glass |
| Available Colors                | Neutral | Bottle mouth                               | Wide |
| Available capacity                              | 5oz,9 oz | Bottle weight                       | 0.31 pound |
Chicco initiates the first hybrid bottle that is feathery, light in weight, and easy to carry. This best bottle for gas and spit-up provides all the benefits of a glass bottle with a break-proof premium plastic convenience. 
It is designed with medical glass technology. Inside with invinci-glass to protect milk from plastic. This helps to eliminate the chances of nasty smells and stains. 
Are Chicco bottle dishwashers safe?
Yes, this best bottle's external superlative plastic body is easy to clean and safe to bottle warmers, sterilizers, and dishwashers. Moreover, it will not crack, shatter, or chip. 
Unlike other brands of baby bottles for spit-ups, Chicco is known for purity and strength. It has an anti-colic vent system that works great to prevent air bubbles from getting to your baby's tummy. 
So, no more spit-ups and discomfort with these best bottles for babies with reflux.
It has the most natural skin, like a textured nipple, making your baby's transition smooth from nursing to bottle feeding. Therefore, your baby will have a comfortable feeding experience in the initial months with a 90% nipple shape acceptance rate. 
4. Playtex Baby Nurser Bottle ( Best anti colic feeding bottle)
| | | | |
| --- | --- | --- | --- |
| Specifications |   |   |   |
| Number of parts                                     | 5 | Bottle Material                            | Plastic |
| Available Colors                | Clear | Bottle mouth                               | Wide |
| Available capacity                              | 8 oz | Bottle weight                       | 0.31 pound |
Playtex baby nurser bottles are innovative bottles for reflux to reduce the baby's fussiness, gassiness, and spit-ups. These best baby bottles for gas and reflux are adored mainly by parents due to the ease of cleaning with replaceable liners. They also serve well in maintaining the warm temperature of the breast milk. 
Do Playtex bottles reduce gas?
It is mainly designed with disposable liners for colicky babies that provide an anti-colic effect and air-free feeding. These liners closely mimic breastfeeding and prevent s swallowing air. 
These bottles for reflux are time savers and can be preferably used by on-the-go moms. If your child is suffering from an ear infection, you can choose the angled model of Playtex baby ventaire bottles highly recommended by pediatricians. Unlike Evenflo, Playtex Baby Ventaire Bottle has the drawback of leakage.
Every part of this anti colic bottle is pre-sterilized, so parents with peace of mind and satisfaction can begin to use it quickly. Playtex bottles come with soft silicone nipples that will not let you face bottle rejection by your kiddos.
 5. Philips AVENT Anti-Colic Baby Bottles with AirFree Vent (Best bottles for formula-fed babies)
| | | | |
| --- | --- | --- | --- |
| Specifications |   |   |   |
| Number of parts                                     | 4 | Bottle Material                            | Plastic |
| Available Colors                | Clear | Bottle mouth                               | Wide |
| Available capacity                              | 4 oz | Bottle weight                       | 0.71 pound |
Philips AVENT anti colic bottles vs regular bottles are unique yet simple in design. Many parents rely on this best bottle for colic and spit-ups when they enter into parenting because AVENT has developed trust among moms and dads with all the child care product range. 
Do Avent anti-colic bottles work?
This anti colic baby bottle with a removable air-free internal vent system let you feed your baby with the entire milk nipple without air bubbles. Resultantly your baby will have great bottle feeding with 80% less colic, spit up, and air ingestion issues. 
Moreover, Philips's best bottles to reduce spit up feature ribbed texture pliable and non-collapsible nipples. It allows your infants to have a secure, uninterrupted latch. Spit-ups sometimes prolongs more than 3 to 4 months, so you can easily exchange bottle nipples with preferred milk flow if you wonder how to clean cloudy baby bottle nipples. Luckily I have suggested some practical methods to clean them effectively.
6. Lansinoh Baby Bottles (best anti colic bottles for breastfed babies)
| | | | |
| --- | --- | --- | --- |
| Specifications |   |   |   |
| Number of parts                                     | 4 | Bottle Material                            | Plastic |
| Available Colors                | Clear | Bottle mouth                               | Wide |
| Available capacity                              | 5 oz, 8 oz | Bottle weight                       | 0.25 pound |
The lansinoh baby bottles are trending, clinically proven and manufactured to provide your baby with the most natural sucking experience. The paediatrician recommends these anti colic bottles for the baby's oral development. 
Are Lansinoh bottles suitable for gas?
Yes, Lansinoh bottles are the best baby bottles for reflux and gas reduction. Their air ventilation system efficiently avoids nipple confusion and swallowing air. It will help your child transition from breastfeeding to bottle feeding more conveniently. 
These best baby bottles for reflux and gas have flexible silicone nipples with slow flow to facilitate natural sucking motions for your little ones. Moreover, if you are using a breast pump from lansinoh, you pair it and take these bottles and save them in the refrigerator for later use. 
Therefore, these bottles for reflux are great for breastfeeding babies and moms to ease their nursing.  
7. Comotomo Natural Feel Baby Bottle
| | | | |
| --- | --- | --- | --- |
| Specifications |   |   |   |
| Number of parts                                     | 3 | Bottle Material                            | Silicone |
| Available Colors                | Green, pink | Bottle mouth                               | Wide |
| Available capacity                              | 5 oz, 8 oz | Bottle weight                       | N/A |
Comotomo bottles are squeezable and have a skin-like texture, unlike other baby bottles. It provides a natural sensation to babies. Whether you want to use formula or give breast milk, these bottles are compatible with bottle warmers and breast pumps. 
The soft nipple shape and natural mound let the baby's tummy full feed. Their wide neck let moms clean the bottle and nipple with a regular sponge and boiling water easily without any cleaning brush.
Comotomo baby bottle shape is the right option for those moms who dislike chemical plastics, which are reservoirs of germs and bacteria. This baby ventaire anti colic are best for acid reflux and made with food-grade silicone. 
As your baby grows, you can replace nipples with the required milk flow as slow flow nipple has one hole and increase with increasing stage nipples. 
What is unique about Comotomo baby bottles?
Comotomo baby bottle are exceptionally designed with two anti colic vents that work great to reduce acid reflux, gas and discomfort in babies. 
8. Tommee Tippee Closer to Nature Soft Feel Baby Bottle
| | | | |
| --- | --- | --- | --- |
| Specifications |   |   |   |
| Number of parts                                     | 4 | Bottle Material                            | Silicone |
| Available Colors                | Clear | Bottle mouth                               | Wide |
| Available capacity                              | 9 oz | Bottle weight                       | 0.25 kg |
Tomme Tippee is among the most adored brand for childcare products. Their baby bottles for relfux with cap, leakproof design and anti-colic valve are some features moms raved about. Many parents shifted from Comotomo baby bottles to these baby bottles for effective and convenient feeding. Therefore, these are best bottles for breastfed babies.
Tommee Tippee bottles are durable, eliminate gas and reflux in babies and provide a non-interrupted feeding experience. They are friendly to grip by baby's tiny hands. 
Parents can easily travel with these best bottles for reflux with a non-leak able lid. They feature anti-static capability, preventing dirt and dust from travelling in baby bags. Instead of pouches, moms can store breast milk in these bottles. You can put them into a bottle warmer at the time of feed. 
Is Tommee Tippee Closer to Nature Anti Colic?
Yes, this best baby bottle have an anti colic valve in the nipple. This eliminates the chances of swallowing air, and consequently, your baby enjoys feeding with fewer symptoms of reflux and colic. 
Conclusion: Best anti colic bottles 2022 and 2023
After personal experience and research, these baby bottles are reviewed based on comfort, material, anti-colic vent system and nipple acceptance rate. I have concluded that for a pleasing feeding experience and reduction of reflux in babies, all 8 best baby bottles listed above are considered the best bottles for reflux. 
However, I highly recommend Evenflo Feeding Advanced Angled Vented Bottles. These anti colic bottles excellently improve reflux symptoms in your child with impressive angled designs for baby upright feeding position. Therefore, worth your money.
Fortunately, this anti colic baby bottle review will let you make an informed decision. I expect there is something for every baby's need. But please keep in mind that as every mom's teats are different, your baby needs to accept various bottle nipples.
You can also try Mam bottles for reflux, which help nursing mothers wean off breastfeeding. The mam anti colic bottle also protects against gas and reflux in breastfed babies. Although, it is essential to always check with your medical practitioner if you think your child's signs are getting worse.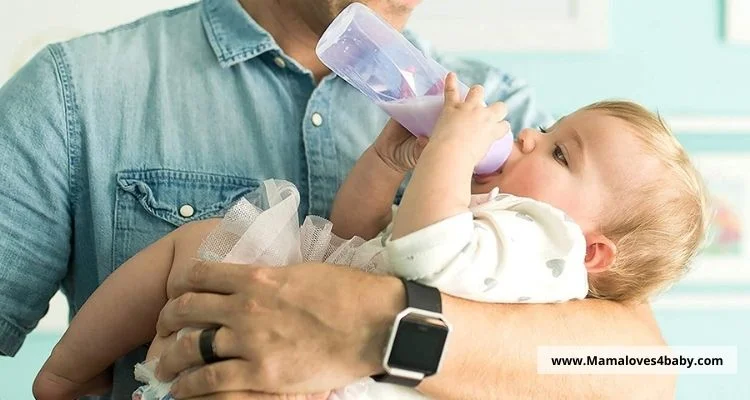 Buying Guide – What bottles are best for babies with reflux?
The following features that parents should consider before buying baby bottle. Colicky babies have the most common symptoms of acid reflux. However, they both are different but cause the same discomfort and pain in breastfed babies. If you are a new parent and unable to recognize the cause behind constant and uncontrollable crying, let me help you know the causes of reflux in babies? And how to deal with them. 
Unfortunately, most babies for a particular period have to go through some gas issues and spit-ups after childbirth. I recommend you to try these best bottles for infant reflux from the first day of your baby. With closer to natural nursing nipples, the bottle let your baby smoothly transition between breastfeeding and bottle feeding. Moreover, moms will also have a resting time from all day feeding after every 2 hours. 
Are you still in doubt to select which bottle to buy for your reflux baby and what bottles do pediatricians recommend? Then take a deep insight into this buying guide that I have prepared for you. 
1. Bottle material
Some parents prefer glass bottle over plastic ones. But they have a risk of breakage when reheating breast milk in bottle warmers. So, you have the option of Silicone baby's bottle with Comotomo and Tommee tippee.
2. Bottle Design and Texture
Paediatricians recommend that the best position to feed a baby to avoid reflux is upright. So, I believe the best feeding bottle is the one that suits this position. Like we have with Evenflo angled baby bottle. At whatever place your breastfed babies like to feed, they will have the tilted milk flow, preventing air ingestion and giving great milk flow.
The other feature parents can look for is bottle and nipple texture. The more it naturally mimics moms, the less you will face nipple confusion and bottle rejection. You can choose a standard or wide neck bottle with wide breast shaped nipple for your baby with an anti-slip body for easy gripping.
3. Nippe size and flow rate
The proper size of the nipple is also necessary. It is suggested to replace nipples because as your children grow, they have different needs. The flow rate depends on nipple size. There is a slow, medium and fast flow rate of nipples. Better to observe your baby's requirement to avoid under or overfeeding. 
If the milk flow is too fast, it will result in ingesting too much air, overfeeding and eventually spit-ups. On the other hand, a too slow flow nipple than your baby's requirement will lead to frustration struggling with the nipple. It will create discomfort and gassiness.
Likewise, the milk bottle nipple must be soft, gentle and skin textured for breastfed babies to provide a secure latch for happy feeding. 
4. Air-free vent system
Best bottles for babies with acid reflux have a proper internal anti-clock vent system. The bottles I have reviewed have their unique vent system to facilitate the exact purpose of preventing air ingestion by the baby. 
These vents make the bottle vacuum-free, and hence your baby will have fewer chances of spit-ups and gas. Some bottles' air-free vent system lies in the nipple; however, others have separate removable vents. 
5. Cost and durability
If you are a new parent, then decide how long you will use the baby bottle. If you want to buy for your initial months, alternate with breastfeeding or use them until toddlerhood. 
In either case, the bottle material is all you are paying for. There are many options from plastic, silicone, glass or hybrid bottles. All bottle's costs vary; some are expensive with premium features such as Comotomo and Tommee Tippee have the squeezable option, while others are budget-friendly with a simple, functional design. So, it all depends on your child's preference and acceptance. 
7. Simple to assembly and cleaning
For ease of cleaning, make sure your bottles have a minimum of 3 and a maximum of 5 parts. It will quickly assemble baby bottles when your time is running fast. 
Wide-neck bottles, compared to narrow necks, are easily cleanable with the regular sponge, boiling water and without the brush. However, I recommend using less cleaning liquids and more DIY to avoid harsh leaching chemicals. You can also check labels for dishwasher and sterilizer safe. 
Parents Also Ask
Can you use anti-colic bottles from birth?
Yes, it is preferred to use them from birth. Its anti-colic vent system helps prevent air swallowing by the baby during the feed. 
At what age does reflux peak in babies?
Reflux typically starts from the 8th week and peaks at four months. Infants with underdeveloped muscles at the bottom of the food pipe are more likely to have reflux. It will make their way to go between 12 to 18 months of age.
What is the best sleeping position for a baby with reflux?
Babies experiencing acid reflux are more likely to sleep on their backs with no loose blankets and stuffed toys near them. It will prevent the risk of sudden infant death.