The littlest things related to our babies matter to us the most. Most of the time, parents try to focus on every detail of the products they offer to their babies. But sometimes, their negligence or ignorance may hinder them from considering the importance of those products that would eventually affect their babies in the long run. One such product is laundry detergent for babies.
How long do you use baby detergent?
Babies need extra care. Using non-toxic baby detergents may seem to be of no concern to some parents, but certainly, it is of great significance to those worried about their child's skin irritations or eczema. Therefore, if you are one of those who want to protect their babies from any such probable condition, then choose the best laundry detergent for cloth diapers.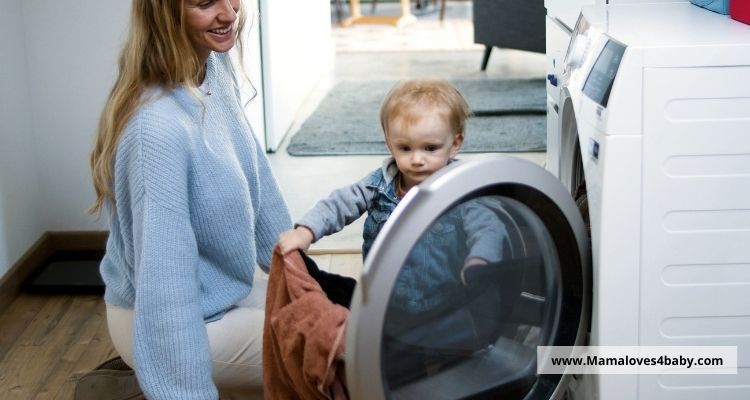 Read Also: Best organic swaddle blankets for newborns
7 Best non toxic detergent for cloth diapers
Organic detergent is the safest baby laundry detergent, especially if your child's skin is sensitive and prone to irritations. I have used various natural detergents for my babies and have become accustomed to only a few. Hence, I have listed some of the best laundry detergent for babies with sensitive skin based on my experience.
Cloth diaper detergent list
1. ECOS Hypoallergenic natural Laundry Detergent( best natural baby detergent for cloth diapers)
| | |
| --- | --- |
| Washable Loads | Up to 100 loads |
This hypoallergenic formula does very well for baby clothes and cloth diapers. It does not contain any harsh chemicals, including dyes, optical brighteners, phosphates, parabens, etc. This excludes any chance of allergy making it the safest baby detergent for sensitive skin.
It is a cruelty free and gentle detergent. What makes it the best baby laundry detergent is entirely plant-based. It has the cleansing power of coconut, which makes it very efficient in removing stains from your kid's cloth diaper, leaving them bright and colorful.
I tried using it to get rid of stubborn stains, but unfortunately, it did not work that well which also signifies the inability of a good cloth diaper detergent. But one thing I can assure you is that it leaves the fabric soft and fresh after each wash. You will not need to use any fabric softener, which will save your time and money.
It is a liquid detergent, available in free and clear and three different scents, i.e., lavender, magnolia and lily, and lemongrass. If you are worried about its smell, you can relax. Owing to natural oils, they leave a very light odor on cloth diapers once they are dried.
2. Seventh Generation Concentrated Baby Laundry Detergent( Best non toxic baby detergent)
| | |
| --- | --- |
| Washable Loads | Up to 53 loads |
The seventh generation is a well-received baby detergent. It is free from toxic chemicals, including artificial brighteners, synthetic fragrances, and dyes, making it one of the best non-toxic baby detergents. Though it contains a tiny amount of sodium lauryl sulfate, it still has not shown any signs of instigating skin irritations for babies over the years.
It is a triple enzyme formula, quite commendable in removing stubborn marks from baby dresses. It works for different types of baby spit-ups, whether milk food or saliva. It takes its cleaning power from plant-based ingredients such as Amylase and Protease. Owing to its stain-fighting property, I have to mention that it is the best natural detergent for cloth diaper. I have tried it quite a few times, and it did well in wiping out the poop stains.
Talking about how much of it is sufficient to use for each wash? I would say do as instructed. You will find the recommended amount satisfactory as it has a concentrated consistency that helps to launder more clothes using less soap.
The seventh generation baby detergent leaves a mild aroma on cloth diapers, comes in both free and clear and other aromatic smells including lavender, citrus valley, sparkling seaside, fresh and scents from natural ingredients. It is a Safer Choice EPA-approved product which means it is eco friendly. You can also go with its other variant Seventh generation ultra power plus in hard water.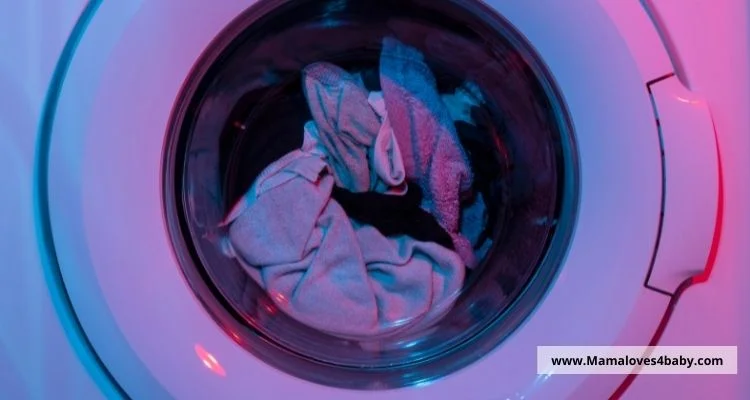 3. Mrs. Meyer's Liquid Laundry Detergent for Baby( Best laundry detergent for cloth diapers hard water)
| | |
| --- | --- |
| Washable Loads | Up to 64 loads |
It is among the best free and clear detergents for cloth diapers, especially for those parents who like scented clothes. It has a very subtle aromatic smell of spring wildflowers, honeysuckle, butterfly violets, and a touch of lemon, apple, and mint. Other alternatives include lemon verbena, lavender, basil, and honeysuckle. The lavender one lacks in providing the fresh scent as promised. The smell of leaves on clothes is somewhat temporary and vanishes after some time.
Indeed, it is the best baby laundry detergent available currently if you do cloth diapering for your baby. It is a chemical free formula. It is plant based detergent and derives its cleaning agents from plants. It cleans well, eradicating dirt and marks, hence a safe option for your baby . Considering its powerful cleaning capability and fragility towards the child's skin, it also falls into the best cloth diaper detergent for sensitive skin.
This concentrated liquid detergent uses essential oils responsible for fresh scents. What makes it more likable is that it is environmentally friendly. Even its bottle is made up of 25% recycled resources. It is an HE detergent that makes it suitable for conventional and high-efficiency machines.
4. Babyganics 3X Baby Laundry Detergent ( Best natural detergent for cloth diapers)
| | |
| --- | --- |
| Washable Loads | Up to 60 loads |
If you are looking for a fragrance free detergent for your baby, then Babyganics is what will interest you the most. Your little baby's sensitive skin will be protected from allergies usually caused by solid fragrances in detergents.
I can assure you that it is the best organic baby detergent. It is free from harmful chemicals such as chlorine, sulfates, 1,4-dioxane, optical brighteners, fragrances dyes, and phthalates. It contains plant-derived cleaning enzymes that work exceptionally well in getting rid of hard stains. You may have to get an immaculate baby's clothes to soak them in the soap for some time before finally washing them. Moreover, it contains less water softener than powdered detergents.
It is the best baby laundry detergent for cloth diapers. Due to its stain-fighting power, it is the go-to option for parents looking for the best natural detergent for a cloth diaper. It works for both types of machines, either the conventional ones or those developed with high efficiency.
One thing that I was not satisfied with was its poor packaging. You may also face difficulty handling the container while pouring the soap into the washing machine. It does not have a pouring spout, making it difficult to measure the amount you want to pour in. The cap can come off quickly, due to which it may leak.
5. Botanical Origin Plant-based Laundry Detergent ( Eco friendly cloth diaper detergent)
| | |
| --- | --- |
| Washable Loads | Up to 72 loads |
Which laundry detergent is best for newborns? Surprisingly, a plant-based and natural detergent for cloth diapers that offers impressive stain removal for the toughest ones. This is because it consists of quadruple enzyme formulas, some of which are protease, Amylase, and Manganese. These bio enzymes help clean the baby's soiled diapers and fight with the hardest possible stains, even those that happened through wine or coffee, etc. It can be a good option for best natural baby detergents.
Natural detergents does not include toxic chemicals such as brighteners, phosphate, dyes, chlorine, and artificial preservatives, making it the best organic baby safe detergent. It contains Sodium Laureth sulfate that helps remove stain, dirt and foul smell from your kid's washable. This component may bother some parents as it is known to cause eye and skin irritations. So for those of you who have a hypersensitive body, this may not be a great option.
If your child is sensitive to smells, it may be problematic for you as it comes in two different scents. One is Fresh Jasmine and Wild Lavender, and the other is Orange Blossom and Citrus Leaves. These scents are mild but there.
If we talk about the container, it is hard to pour the liquid laundry detergent soap into the washing machine because of the smaller size of the dispenser cap than the bottle's opening. The detergent drips down the sides of the bottle, making it messy. On the other hand, you cannot ignore the fact that the bottle is made from recycled plastic, making it more conducive to the environment.
It is formulated for use in both washing machines with hard water, be it regular washers or high efficacy washers. It is also acceptable to use it while washing hands.
6. Grab Green Newborn Baby Laundry Detergent Pods
| | |
| --- | --- |
| Washable Loads | Up to 30 loads |
If you are wondering which laundry detergent is best for newborn, then fortunately, this formula is safest baby laundry detergent ewg for newborn babies from 0-to 4 months. It targets breast or formula milk stains, baby spit-ups, and cloth diaper dirt. It promises to not leave any stains behind on clothes, but you have to make an effort for it to be valid. You have to preheat the washables with some baby stain remover detergent. You can use some stick or brush to clear the stain first and then eventually wash it with the Grab Green detergent pod. Otherwise, it may disappoint you.
It is planted, and mineral-based does not include harsh chemicals such as phthalates, parabens, or dyes. Hence, it lies among one of the natural laundry detergents. Its calming chamomile scent is derived from natural oils such as cedarwood, geranium, patchouli, citronella java, and petitgrain. It is mildly scented, and believe me, my baby's clothes smell amazing after every wash.
So the parents who are curious know which laundry detergent is best for newborns? My experience tells me that it is the best cloth diaper detergent for sensitive skin.
The Velcro bags used for detergent pods packaging are convenient to use. You can use This detergent for removing stains on cloth diapers is best in standard and high-efficiency washing machines. It is suitable for use in all temperatures. But one thing to remember is constantly dissolving the detergent pod first after tossing it in the washer, or you may find chunks of it while unloading.
7. Honest Laundry Detergent (Best cloth diaper detergent for sensitive skin)
| | |
| --- | --- |
| Washable Loads | Up to 70 loads |
A smart bottled wonderful baby laundry detergent that is safe for your baby and works effectively in fighting dirt, and your baby's clothes come out clean, fresh, and soft. It removes stains and foul odor from clothes keeping the shape and colors intact. It is, therefore, the best and safest baby detergent for the delicate dresses as well as for cloth diapers.
Honest baby detergent is formulated with natural ingredients, free from toxic chemicals such as dyes, fillers, and unnecessary additives. It is the best organic baby safe detergent for your child's sensitive skin. It is promising for parents dealing with skin issues in the family.
Your baby will love the aroma. It is baby scented, very fresh, and mild. Even adults like me love it too. So if you wonder which baby laundry detergent is best? Then, it is one of the best baby laundry detergents. It is a concentrated detergent. The less it is sufficient to wash a pile of dirty clothes.
Conclusion: Best detergent for cloth diapers in hard water
I have reached an inevitable conclusion based on experimenting and analyzing the baby's outcomes mentioned above, detergent for washing cloth diapers. I tested these highly rated detergents on the grounds of cleaning capacity, high efficiency, stain removal ability, and skin sensitivity. I thereby learned that to protect your babies against harmful chemicals and provide them a clean, soft, and fresh clothing experience, the parents should consider these 7 best baby detergents.
I highly recommend using The Laundress –Baby Scented Detergent. It is a bit pricier but trusts me. It is worth the price. It helps to get rid of the most challenging stains keeping the color of clothes intact. It is gentle enough on the baby's skin, totally natural. Hence, it is the best organic baby detergent 2020. It is an excellent cloth diaper detergent too.
However, if you want a more budget friendly option, you can also go with homemade laundry detergents made of washing soda, borax, and water softeners. I hope this review will help you choose the best and safest baby detergent.
Buying guide: Which is the best baby laundry detergent?
I would like to share some essential aspects to guide you while selecting the suitable baby detergent for cloth diapers.
Why use baby detergent for baby clothes and cloth diapers?
How long do you use baby detergent depends on the parents' preference whether they want to pick some random detergent for their baby's clothes or the best non-toxic baby detergent. We suggest using the best and safest baby detergent that helps you avoid exposing your babies to the harsh chemical that other regular detergents may include. Some inorganic ingredients can be so dangerous that they can penetrate through the baby's skin into the bloodstream.
Some parents may go for the detergent suitable for the whole family rather than the one specifically designed for the babies. Along with such detergent, they use a laundry stain remover like Dreft to clean the tough stains of poops and dirt on their baby's clothes. After all, this is all about parents' choice and the baby's comfort and safety.
Is dreft safe for babies? Yes, but luckily there are many organic alternatives available nowadays compared to those in the past. Hence, below mentioned are some ingredients that you must avoid while selecting a baby laundry detergent.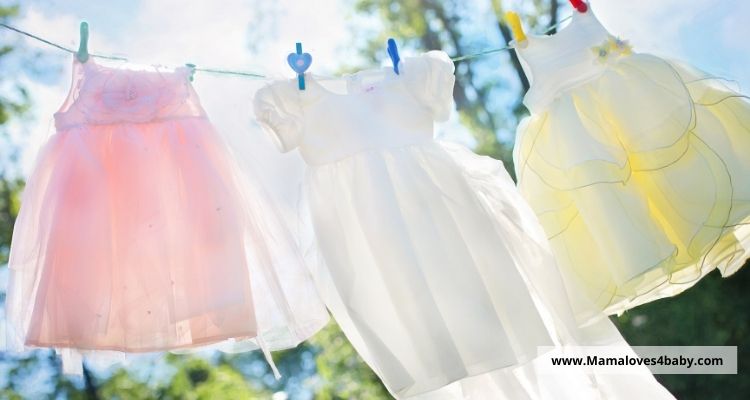 The pros cons product highlights the good bad of detergents for cloth diapers
1. Fragrance
Fragrance is usually stated as an ingredient on the product, which is not the case. The fragrance itself involves many other elements that are not required to mention. These hidden ingredients can become a cause of allergies, respiratory issues, and headaches. So what, we need to look for best detergent for cloth diaper with organic fragrances derived from natural oils rather than synthetic ones. Moreover, the best detergents for cloth diapers would be fragrance free and will effectively work if used without optical brighteners or fabric softeners.
2. Sodium Laureth sulfate (SLES) and sodium lauryl sulfate (SLS)
Both SLES and SLS tend to cause eyes and skin irritations. So if your baby has ultra-sensitive skin, you must avoid the detergents for cloth diaper that involve these materials in their formation. But if your baby has more tolerance, you can go for it.
3. Effectiveness
Not all plant-based baby laundry detergents are as effective as they claim to be. While picking up the best detergents for cloth diapers, you need to make sure that it can fight tough stains. As mothers have to deal with many such colors, and for those of us using cloth diapers, we must consider this feature to get the best cloth diaper detergent.
Moreover, you can benefit from the policy of "money-back guarantee in case the customer is unhappy with the performance," This review or any other customer reviews available online can also help you make a decision.
4. Concentration
Another feature that should attract you is a high concentration of detergent for heavily soiled cloth diapers, particularly in the case of liquid detergent. The more the attention is, the less water it includes, which means the less space it would take, resulting in smaller packaging. It makes the product more environmentally friendly as it requires less packaging material and fewer trucks for transportation.
5. Temperature effectiveness and washer suitability
Ensure that the cloth diaper detergents work in all temperatures and meets your washer standards. For- efficient baby laundry detergents, you will require advanced washers.
Parents Also Ask
Why are my cloth diapers causing the rash?
There may be other possibilities to it, but one significant factor that may be responsible for causing a rash to your baby's skin is the laundry detergent. Try to opt for the best natural detergent for cloth diapers to avoid any such skin conditions.
Can I use regular detergents for baby clothes?
Yes, you can use a regular detergent but in a reduced amount. If your baby's skin is prone to allergies, you should wash the clothes more carefully, clean them with the detergent, and then rinse them off with water at least twice to get the soap out as much as possible.
Do you have to use fabric softener for baby clothes?
Avoid using fabric softeners as they may contain dangerous chemicals. Try using organic baby laundry detergents, which leave the clothes soft and fresh once dried. This will protect your baby's skin and save you time and money.
Should you wash all the new baby clothes?
Parents are cautious of all the things they would offer to their newborns. Everything should be properly sanitized, including the clothes, burp towel and cloth diapers. Dermatologists advice to pre-wash the clothes with a gentle fragrance free organic detergent