From the journey of being a new mother to a mother of older babies, there must be a heap of uphills a mother has to climb. She may achieve many milestones as well. Almost every stage of parenting has its gleam and gloom, though one of the most challenging junctures for a child is to gear them up for doing things other than the routine. Toddlers started being fussy when we wanted to change their habits.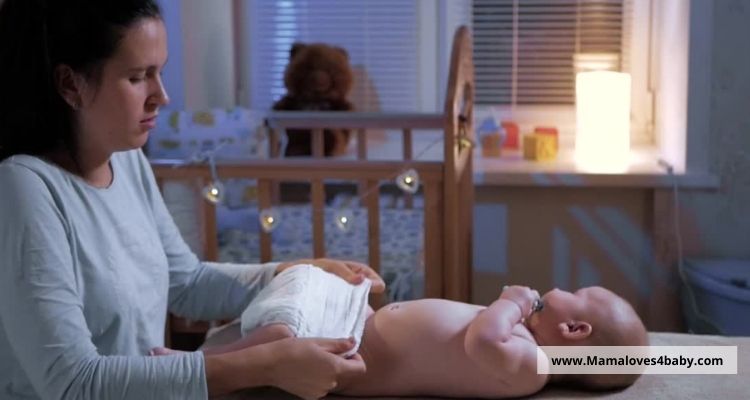 So, with your baby's growth, you must be wonder when to switch from diapers to pull ups and indeed is not an easy job. Your child may give you a tough time. However, it would be best if you also considered countless queries while going through the potty training journey. Numerous questions are rising in your mind Like:
How do pull ups diapers work?
When to switch to pull ups?
Are pull ups as absorbent as diapers?
When to use pull ups instead of diapers?
What is the difference between diapers and pull ups?
Well, hold down, don't rush things. Switching on pull-ups is a good move. In comparison, certain conditions and circumstances before transitioning from diapers to pull-ups will provide you with optimal results. After all, you are the one who has to decide by observing all the signs and conditions we are advising you.
How do pull-ups diapers work?
First thing first, pull-ups, also familiar as diapers pants or training pants, are just like panties or underwear with a waterproof outer layer. They are as absorbent as normal diapers and offer the same material and usage. They have elastic waistbands and leg bands for easy pull-ups and down. They are easy to use.
Without making your toddler lean down on the bed, you can pull this training underwear up and down like regular underwear. You can easily take off these disposable diaper pants like simple pants or tear them apart from the sides for a quick take-off.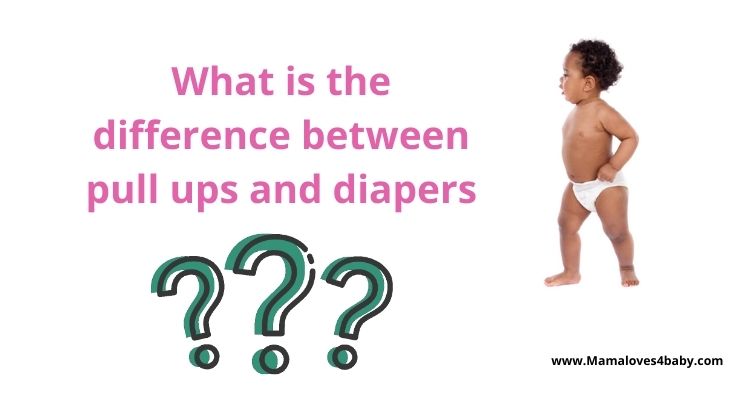 What is the difference between pull ups and diapers?
The most obvious difference between diapers and pull ups is their design. Diapers have a stretchy tab on both sides for customized fitting on your baby's waist. In contrast, pull-ups have an elastic waistband for easy on and off. Pull-up pants are also available in various colors and fashionable prints, similar to pants or underwear.
Your kids may snug into the diaper pants and wander happily, unlike regular disposable diapers having fitted tabs and higher backs, making children a little uncomfortable.
There might be several reasons for switching training pants with diapers.
Related: 8 Best Overnight Pull Ups for heavy wetters
Diapers vs. pull-ups
Dozens of brands are available in regular diapers and pull-ups for parents' convenience. When choosing between pull ups vs. diapers, your priority should be what will be convenient for you and comfortable for your little one in their developing journey.
Apart from overnight diapers designs, there are several other reasons you must assess while picking between diapers or pull-ups:
When to start using pull ups?
Are pull-ups suitable for your toddler or not? Does a kid's comfort level matter a lot?
If your child is bulky or above three years old?
At what price you can afford the switch.
Your child likes to do things by themselves.
And most significantly, are you going to start toilet training?
Age
Indeed, it depends on babies and mama because every child is born with different personality traits. Generally, babies become so active from 6 months to 2 years that no one can stop them. They want to crawl or run all the time. Pull-up pants are best for such perky older toddlers who like to bounce on the bed while changing diapers. Due to its design, you can do quickly standing diaper changes for stubborn, young toddlers.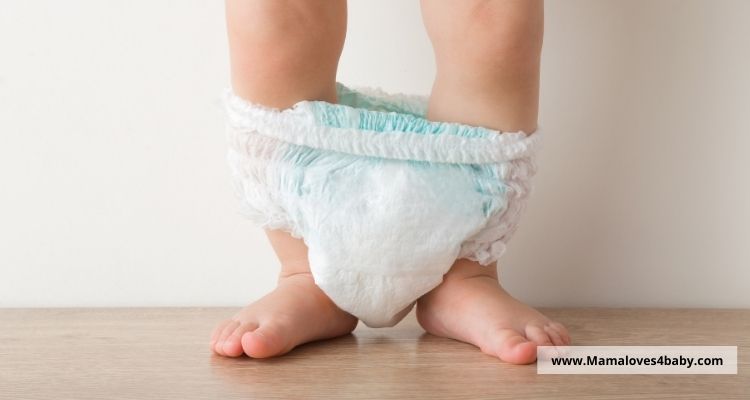 Comfort
Many parents choose to pull ups because the elasticated waistband and lightweight pull-ups make them extra comfortable than the actual style of regular nappies. Since toddlers are unstoppable, sometimes they become fussy in the regular diaper, making movement difficult due to their high cuts from back and fitted tabs. At the same time, pull-ups pants with stretchy waistbands allow toddlers to wiggle around the floor happily.
Size
Diapers are commonly available in limited sizes, starting from newborns 3-10 lbs to kids age three with almost 35 lbs. In contrast, training pants are available in larger sizes for younger kids. They are starting from 18-34 lbs to 38-50 lbs. Big size pull ups may help parents to fully potty trained their big busy toddler without letting them wet the bed at night, have messy accidents at school, or while going out.
Price
Disposable training pants are comparatively more expensive than disposable diapers. The price difference is worth it when you are using these training pants to begin the potty training process because your child may use them independently, and as a result, few pants are needed in a day.
Absorbency of disposable training pants
Are pull ups as absorbent as diapers? Well, pull-up pants are generally less porous than disposable diapers. Although many famous brands claim, like Huggies pull-ups, pampers easy, ups, goodnight bedtime pants, etc., to have the same absorbing material and waterproof outer layer to absorb urine, parents won't agree. Pull-ups are designed like regular underwear, so kids may feel wet while urinating. But this could be not very pleasant for toddlers or tiny babies.
Sense of independence
Growing Kids want to do their work, and this thing will give them self-confidence. pull up diapers allow kids to wear in and out their nappies like big kid underwear without any problem. Doing their work may provide them with a sense of freedom and satisfaction that they can change their pull-ups by themselves.
Helps to start potty training process
Beginning potty training is always a challenging task for parents. So, when do you start using pull ups. Most mothers consider shifting from diapers to pull-ups during potty training because of their easy pull-on and off design. While peeing In these training pants, kids may feel wet, which gives them an idea that this feeling should be paid attention to and that it's time to go to the toilet.
When To Switch From Diapers To Pull Ups
The above reasons might help most parents make a good choice, but if you are still confused about switching to pull-ups. Don't worry! We will precisely discuss them for you so that you can make a well-informed move for you and your active babies.
Aside from our shared reasons, in the diapers vs. pull-ups dispute, pull-ups have predominantly few ultimate edges over regular diapers. These benefits clearly state when to switch to pull ups.
If your baby is active, stubborn, or picky
While changing diapers, your perky kids always want to fly to every corner of the room. They keep on kicking and moving. This diaper-changing wrestling match will exhaust you if your toddler is on taped nappies. The same job will be done in a wink, and you'll be in a win-win situation if you switch from taped nappies to pull up diapers. You can also do a standing nappy change if your kid is stubborn or grumpy and not ready to lean down.
The design of pull up diapers is most promising. When your baby is on the move, and you want to make a quick diaper change, you can tear the stretchy sides apart and put on a new pull-up diaper like regular pants while he\she is standing.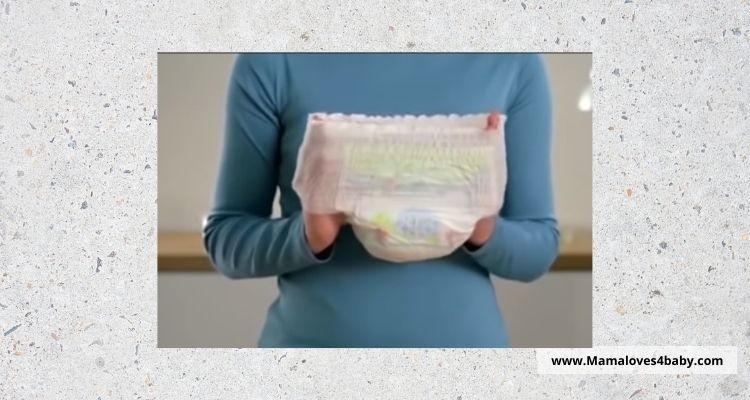 Fussy or picky children often feel locked up in traditional diapers due to their fitted tabs around the child's waist and high back. Pull-ups allow such particular children to merrily sprawl around without making them think seized.
Pull-ups for potty training
Guessing the best time when your child is ready for toilet training is not an easy job. Yet, kids may show signs of readiness like getting irritated after peeing or making different faces, hiding somewhere, laughing, looking down or feeling uncomfortable. Being a parent, we have to pay attention to those little gestures kids repeatedly show when they need to use the toilet because readiness arises at a different age for different kids.
According to American Family Physician, the best age to introduce toilet training is 18 months to 24 months. Still, again every child is different, so don't panic if she is older than that and does not show readiness. However, it is a fundamental process in a kid's developmental stage, and every healthy child is eventually potty trained.
Pull-ups are ideal for this tricky task of coping with accidents without making a mess. They are designed explicitly for actively potty training older kids. These training pants will let your older toddler feel wet after peeing, and it will help them realize that they need to use the washroom instead of peeing in their pants.
These pants also allow children to rush into the toilet and pull out their pull-ups by themselves without relying on parents. When they are in a hurry, they will not call you to take them to the bathroom; instead, they will train you to use the toilet independently.
Pull-ups for nighttime dryness
Most kids potty train by two or three, but many may not even show readiness at night. So bedwetting at nighttime is common even in school-going kids.
Don't forget that every child is different, some younger kids may take longer to be fully trained, but it doesn't mean that you start worrying about them or overthinking them. If your youngster takes more time in night training, be patient and don't give up trying. They will learn eventually when their body is ready. Just calm down and keep on trying.
Training pull-ups are available in bigger sizes as well. This will help your big kid not feel upset over overnight accidents and make bedwetting a breeze for you.
Conclusion
In summary, when to start using pull ups is entirely depends on your child. Once you make a switch, you'll realize how much this switch makes sense, and the hectic toilet trips have become considerably painless for you and your baby. Your kid feels more comfortable with its elastic sidebands and quickly learns to do a pull-up and down on its own.
Parents Also Ask
What size pull-ups for a 3 year old?
With 8 to 10 hours of protection, pull-ups for 3 year olds can use sizes of 2T-3T for 16 to 32lbs and 3T-4T for 30 to 40 pounds.
Are Pampers Easy Ups the same as pull-ups?
They have a 360-degree stretchy waistband like other training pants, whereas Huggies pull-ups have an adjustable band with velcro tabs.
How long do Huggies Pull Ups last?
They are most absorbent and last for up to 12 hours. They provide excellent leak protection, comforts like regular underwear and correct diaper changing time through a wetness indicator.
Do pull-ups come in size 6?
Yes, Goodnites, Pampers Ninjamas and sleepovers by cuties come in large and extra-large sizes for big kids