As a parent, you want to make sure that your child has every opportunity for success. One key area of development is speech. Some experts believe that your child's type of sippy cup after bottle feeding can help or hinder language development. So, what are the best sippy cups for speech development? Let's dig out in the light of expertise.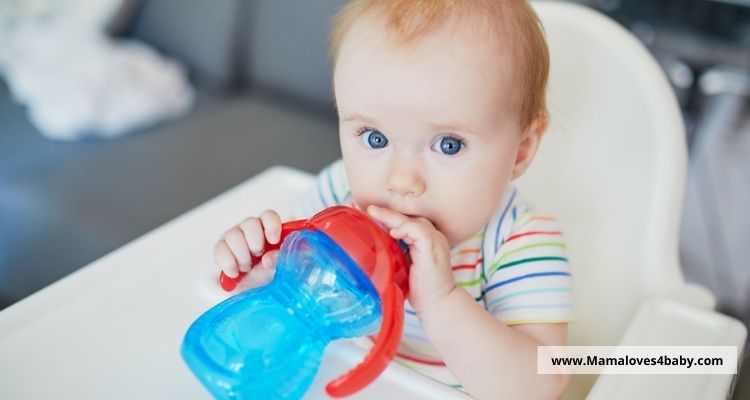 Sippy cups and speech development in children
Producing speech sounds is an essential milestone in a child's development. Speech-language pathologists (SLPs) often recommend introducing weighted straw sippy cups or open cups to help children practice the skills needed for speech production. They are a must for any parent with a young child who is tired of cleaning messes and spills all over the house.
Sippy cups that promote toddler speech development
Which sippy cup is the best for speech development? That can be tricky because different cups work better for other kids. But we've researched and found five of the best cups out there for helping child's speech development in 2022.
Do sippy cups affect speech? Sippy cups and straw cups both help promote oral motor development, including the development of the muscles used for chewing and swallowing. But these should not be hard spout sippy cups that hinder your baby's tongue from getting where it should be for proper swallowing.
What is a suckling reflex?
When a child is born, they have a natural reflex to suck on anything that goes into their mouth like breast milk. It helps them to feed and also soothes them. Sucking also helps develop the tongue tip and jaw muscles, which are essential for child's oral motor development.
When babies are presented with solid foods and open cup liquids, they develop a mature swallow reflex. This is a complex motor skill that develops over time. Sippy cups can be a great way to help your child transition from bottle feeding to cups.
The cups with a hard spout and a non-spill valve are difficult to suck and require great effort from your baby.
By giving such cups, you unknowingly support your kid's immature swallow pattern. Therefore, parents should look for a cup with a soft spout that is easy to suck on. Or the best I can recommend introducing an open cup to your little ones in their first year that will help your child move on from sucking to drinking cup.
You'll also want to ensure that the sippy cup is easy to hold and doesn't leak. Look for doctor recommended sippy cups and straw cups with ergonomic handles that are easy for little hands to grip. And, be sure to choose a cup with a tight-fitting lid to avoid leaks.
Are straw cups good for oral development? Keep reading to learn more about the best stainless steel cup for toddlers!
Six best sippy cups for speech development
There are many different types of sippy cups on the market, so it can be challenging to know which one is right for your child. Here are the six amazing sippy cups for developing child's more mature sucking pattern, according to speech language pathologist:
Munchkin Miracle Stainless Steel 360 Sippy Cup
If you're looking for a speech therapist recommended sippy cup that will help your child's oral development, the Munchkin Miracle Stainless Steel 360 Sippy Cup is a great option. This sippy cup features a unique design that allows your child to drink from any angle, making it easy for them to drink and learn simultaneously. The Miracle Stainless Steel 360 Sippy Cup is made from durable stainless steel and is BPA-free, making it a safe choice for your child.
Lip activated
As babies begin to drink, a valve on the cup's rim opens to allow liquid to flow. When your child stops drinking, the valve closes again, helping to prevent leaks. Additionally, it let your 9 months old baby to achieve mature sucking pattern and decreases the chances of oral cavity.
Spill-proof
If the cup is tipped over, the valve will close automatically to help prevent leaks. The Munchkin Miracle 360 Sippy has no extra valves or parts and is top-rack dishwasher safe making it easy to clean.
Supports kids' Dental health
The American Academy of Pediatrics says that sippy cups can be used until age 4. This excellent sippy cup mimics traditional sippy cups and is ideal for babies from 12 months and up. It supports muscle development, jaw development, and proper swallow function without disturbing hard palate and is recommended by licensed therapists. Moreover, this cup is not just for toddlers but also helpful for big kids with removable handles.
Stainless steel
Double wall stainless steel keeps drinks colder for about 15 hours and won't sweat. Moreover, it is available in four lovely colors. So, your little kids can choose whatever they like.
Final Verdict
Sippy cups are a vital tool for child's speech development and proper tongue placement. This 360 Sippy Cup helps train the muscles in your child's mouth to make the sounds of speech. Also, useful for teeth whitening.
Ezpz Tiny Cup (Best sippy cup for low muscle tone)
The second best cup on our list is Ezpz Tiny cup, primarily designed by pediatric feeding therapists. It has all the features to help your little ones to achieve their milestones effectively in their growing age.
Silicone made
This training cup is silicone made that remains gentle on your baby's gums and emerging teeth. Its outer texture provides a non-slip grip on babies' hands. In addition to this, whether you like to give warm milk or want to start with a smoothie, this cup is temperature safe.
Weighted base
Ezpz Tiny best sippy cup for speech development features a weighted base with tactile bumps to avoid messes. So, your kid can enjoy mess-free drinking with meals.
Adequate size
As the name sounds, the Ezpz Tiny cups are small to come in the small hands of your kids easily. Moreover, this open cup helps in child's tongue elevation and promotes speech development. You can safely use it when your kid reaches four months of age.
Final Verdict
The Ezpz Tiny cup contains little water that the baby can only drink without spilling extra all over the house. The tapered opening supports the direct flow of water to the baby's mouth, indeed an excellent option to avail.
Tommee Tippee Insulated Straw Cup for Toddlers
If you're looking for the baby water bottle and best sippy cups for speech development and oral motor skills, you can't go wrong with Tommee Tippee's kids insulated water bottle. These spill-proof straw sippy cups are recommended by speech language pathologists and are perfect for toddlers aged 12 months and up. The weighted straw design helps promote swallow pattern , oral development, and the insulated construction keeps drinks cold for longer. Plus, the bright blue and orange colors of these transition cups will please your little one.
The ergonomic design
The incredible design of this straw cup is easy for small hands to hold, and the screw-on lid ensures no leaks in baby bags. It also aids in developing the hand-eye coordination required to grasp, lift, and sip.
Non-slip base
The Tommee Tippee straw cups are recommended for its soft silicone straw that is gentle on gums and its non-slip base that helps prevent tipping. These straw cups are BPA-free and top-rack dishwasher safe. But to add an extra caution to reduce the chances of building mid dew, it is better to dry them thoroughly after washing.
Speech therapist recommended straw cup
The Tommee Tippee Insulated Straw Cup is the best sippy cup for appropriate facial development. The double-wall insulation keeps water cool and encourages toddlers to continue to drink, while the soft silicone straw, unlike hard spout, is gentle on gums.
However, tommee tippee bottles for toddlers are among the best water bottle for toddlers.
Final verdict
Tommee Tippee bottles and Insulated bendy Straw Cup for Toddlers promotes optimal baby's mouth development, improves swallow pattern and tongue tip placement. It is one of the best straw cups and remains smooth and gentle when your babies are teething. Because during teething, most babies get their stomach upset, and pediatrics recommend keeping them hydrated. So, these speech therapist recommended sippy cup work well in this situation instead of baby bottles.
Brown's Cheers 360 Spoutless Training Cup
Dr Brown's Cheers 360 Spoutless Training Cup is distinctively designed to help encourage proper tongue placement, mature swallow pattern and speech production. This 360 cup has beveled sides allow your child to drink from any angle, making it easy to use.
The translucent sides
You can see how much liquid is left in the dr. brown sippy cup, so you'll never be caught off guard by an empty sippy cup again. In addition to this, like my baby, every child is curious to know what is inside a cup that comes to them. So, with Dr brown's sippy cup, no more curiosities. They can see inside the colorful drinks you offer to them.
The leak proof valve
The speech therapist recommended sippy cup also features a leak proof valve that prevents spills, which is ideal for on-the-go use. Plus, the bright pink and turquoise color scheme will please even the pickiest of toddlers. Hence, this transition cup is perfect for on-the-go use.
It comes in two styles
The Dr. Brown's Cheers 360 Spoutless Open Cup helps babies transition from bottle feeding or breast milk to cup drinking. It comes with or without a handle. So your child can enjoy authentic leak-free learning.
Final Verdict
With this open cup, you can provide your child with learning open mouth posture, mature sucking patterns and developing drinking habits without spouts and straws.
Philips AVENT Natural Trainer Sippy Cup
The Philips AVENT Natural Trainer Sippy Cup with Handles is recommended for its soft spout straw gentle on gums and emerging front teeth. Additionally, these sippy cups bad for speech development allow the baby to control the flow of liquid. The handles are easy for little hands to grip, and the cup is easy to clean. The baby straw cup has an appropriate size that does not make it heavy while offering water to your kid.
No Drip Valve
The Philips AVENT Natural Trainer Sippy Cup can be used by children ages four months and up. It is best sippy cup for baby on the go. Without any doubt, parents can use this best sippy cup for speech development and for their little one's transition from bottle feeding to cup.
Crystal clear wall
The crystal clear cup shows just how much liquid is left. Like a regular cup, this sippy cup features convenient measurements on the side to keep track of how much your little one is drinking.
Interchangeable lid
The Philips AVENT Natural Trainer Sippy Cup features a spout cover that stays open when your child wants to drink and closes right to protect the spout when they're done. Furthermore, this traditional sippy cup is designed with a dimple in the lid to make room for little noses.
Final verdict
This speech language pathologist recommends this sippy cup for your baby's healthy muscle development and mature swallow pattern. Your kid is ready to have a fun journey with all the essential features.
NUK Active Sippy Cup
New parents often looking for an easy way to transition your little crawler from breast or bottle to open cup? Check out the NUK Active Sippy Cup! This ultra-lightweight cup comes with a spill-proof spout gentle on front teeth and gums, plus a cover to help keep the spout clean. It is an excellent choice for busy families. Recommended for ages 12 months and up.
Spill-proof design
The NUK Active Sippy Cup is perfect for toddlers on the go. The cup features a spill-proof design made from durable materials, making it ideal for active toddlers. The cup also include replacement straws option that helps promote oral development.
Convenient carrying clip
On one side of this transition cup, a carrying clip makes traveling easier. Parents can attach this cup to a diaper bag or purse. So they can quickly give it to their kids.
Break proof
When your child learns to do things independently, parents surely need some baby gears that last longer and are durable. With Nuk, you never get disappointed, and it is break-proof, so your kids can get rough with it.
Final Verdict
It is a little expensive option with the drawback of a slow flow spout like from bottle nipple, But it is made from BPA-free material, and it's fun colors will amaze your kids.
Conclusion: Best sippy cups for oral development
We've got you covered whether you're looking for an everyday open cup that will make your life a little easier or a special sippy cup for occasions when you know there will be spills. I hope this guide has helped you find the perfect fit for your little one. Sippy cups come in all shapes and sizes, so there's one that will make drinks on the go less of a hassle (and fewer messes). Not all the sippy cups are best for every child. You can also consider some incredible straw cups here.
It depends on the age of your baby, the material, and the style of the cup you select for kids to promote oral development.
Buying Guide: How to Choose an open cup, Sippy Cup and straw cup for Babies and Toddlers Step-by-Step
When it comes to helping your little one develop their speech, you want to give them all the tools they need to succeed. And one important tool is a dentist recommended sippy cup after bottle feeding. Like straw cups, a good sippy cup can help your child learn how to control the oral muscles of the lips and tongue tip, which are essential to prevent tooth decay, proper tongue placement and more mature sucking pattern.
Hard spouted-sippy cups promote immature swallow patterns, just like the pronounced use of baby bottles did to oral development and affect your childs speech.
They hinder the proper placement of the tongue in the baby's mouth.
Causing eruption of emerging teeth.
You can check out some hard-spouted sippy cups here: What kind of sippy cup is best for teeth, and what to use instead of sippy cup?
When choosing a best sippy cup for speech development, there are many factors you'll want to consider. Here are some things to keep in mind:
Open Spout
The first step is finding a sippy cup with an open spout. This type of spoutless sippy cup allows your child to control the flow of liquid, which is vital for speech development. You'll also want to make sure that the cup has a soft spout, as hard spouts can irritate after bottle feeding.
Easy to hold
Another critical factor to consider is how easy it is to hold the cup. Look for a cup with a broad base to prevent tipping, light in weight, and two handles. It will help your child grip the cup more efficiently and avoid spills.
Easy to Clean
You'll also want to make sure that the sippy cup or an open cup is easy to clean. Look for a cup that you can disassemble for cleaning and dishwasher-safe parts.
Material
Finally, you'll want to make sure that the sippy cup is made from safe materials. Choose cups that are made of BPA free plastic and food-grade silicone or steel.
Tight seal
Parents must choose a cup with a leakproof seal tight lid to prevent messes to avoid leaks. It will make it easier for parents to keep cups in diapers or baby bags when traveling. The cup should also have a valve that closes when your child stops sucking to prevent spills. But limit the use of such cups only when you are on the go.
The speech therapist recommended sippy cup.
Look for a sippy cup that supports your kids' dental health and is also recommended by the dentist and speech therapist.
Cover cap
Consider buying a sippy cup with a cover or carrying case. So, you can close the lid when your child is not drinking, and it also prevents spills. By following these guidelines, you can find the best sippy cup for speech development for your child.
Parents Also Ask
At what age should a child drink from an open cup?
I recommend that parents introduce an open cup to their children around six months when their baby develops the coordination needed to drink from an empty cup. Because at this age, your child starts to eat solid food and needs more than an ounce of water. So, begin with introducing cups and then kids water bottle during meals to help your baby swallow food and develop drinking habits.
There are many benefits to using a sippy cup for speech and language development. Sippy cups can help your child learn how to control their oral muscles, promote proper jaw development, and improve their speech.
Why are sippy cups essential for oral development?
There are sippy cups that you should use because they help your child learn how to control their oral muscles. Sippy cups can also promote proper jaw development and improve your child's speech sounds.
Which is better, straw or sippy cup?
Some experts believe that straw cups are better for oral development because they require your child to use their muscles more. Others believe that spout-less sippy cup is better because it is easier to use and promote proper jaw development.
Do pacifiers delay speech?
Some speech therapists believe that pacifiers can delay speech because they interfere with proper jaw development. Others believe that pacifiers can help promote adequate jaw development.
Why should I wean my baby off of the bottle?
The prolonged use of a baby bottle after 12 months will eventually cause immature  swallow patterns in babies. It will hinder learning to drink independently. Therefore, parents need to transition from spout sippy cups or bottle nipples to open cups or straw cups as early as possible to get the mature swallow pattern and avoid tongue thrust patterns.