Trampoline is quite a popular fun activity among kids and adults. Apart from entertainment, it is used for exercise by gymnasts and acrobats. It helps develop better coordination, balance, and agility. At a growing age, this bunch of enjoyment lets your kids relax and, at the same time, improve their muscle strength and bone health. 
Covid times locked us inside our homes which were quite tricky and depressing. Parents tried indulging their babies in recreational activities to keep them busy during the pandemic. They discovered the trampoline a great option to rely on, which further increased its popularity. But one important thing that bothers many is the small size of the backyards in their homes for keeping trampolines.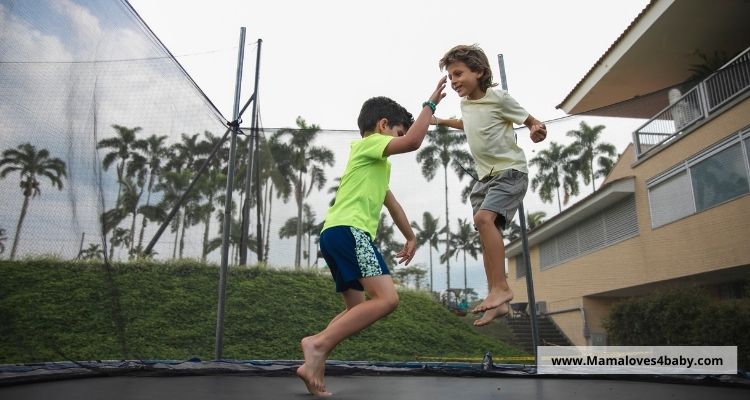 You can stop worrying about it because it is not an issue anymore. Backyard trampolines are usually perceived to be large and consume more space. Relax, it is not always the case. Nowadays, they are available in various shapes and sizes, from which you can choose what suits your needs. We, therefore, have come up with some of the best trampolines for small yards that we reviewed based on our experience. They are high-quality trampolines that will squeeze into your space easily.
But before we proceed to these top rated trampolines, parents need to be aware of trampoline safety guidelines.
Read Also: How to install netting on trampoline?
10 Best trampolines for small yards
I and my friends and relatives have tried and tested some of the best trampolines for your kids. Hopefully, this in-depth review will let you select the suitable trampoline for your homes' small yards and indoor spaces.
1. Skywalker Trampolines 10-Foot Round Trampoline (Best heavy duty trampoline)
A proud investment is what I can say to define having this Skywalker Trampoline. Your super-energetic kids will love bouncing on this harmless trampoline. Its structure provides safe and secure playtime. Having eliminated enclosure net gaps, rust-resistant springs, enclosure joints, and padded spring cover ensures the strength of the frame stability of the bouncer.
Its spring cover is UV-resistant and coated with vinyl to fight harsh weather conditions and avoid damage due to UV radiation. Despite this, it is the only part that deteriorated at a high pace. Otherwise, it maintained its original condition quite well. Its unique buttonhole feature allows closing the net together while leaving or getting inside.
The maximum weight capacity for this round trampoline is 175 lbs. It is 10' in diameter. It will present you with no space issue and will quickly get adjusted in your backyard. Thus, it is one of the best trampolines for small yards.
The company provides two limited warranties, one for a frame for three years and the other for the remaining parts for one year. It is one of the best trampolines under $500.
2. AOTOB 8FT Trampoline (best trampoline for flips)
It is an awesome trampoline for kids who want to develop physical agility and synchronization. It's the best home trampoline for gymnastics. It is designed to keep your baby's safety on the top. Its widened design offers more space for the jumpers to bounce.
It has a resilient jumping pad that is weather-resistant, lengthened zipper, which provides ease in getting in and out, an increased number of buckles to protect against zip opening if someone falls on it, and foam grips for protection against bad bounce. The closeness of the jump pad with the springs leaves no space for the baby's feet to get caught.
The U-shaped legs with many contact points add to the trampoline's stability. It prevents the trampoline from tipping over when more jumpers are bouncing on it at a time. Another plus point is its galvanized steel frame, making it even more robust and the best backyard trampoline.
The rustproof and reliable steel springs link the jumping pad with the frame to provide a great jumping force, creating a comfortable and impressive bounce for the jumper. It supports 400 lbs. of weight making it the best 8 ft trampoline with a high weight limit.
3. Pure Fun 36-inch Kids Trampoline(best trampolines for tricks)
This Pure Fun Monster Plush Jumper is an excellent product for babies with a high energy quotient. It will offer them a healthy and joyful experience. Its added safety features of a padded handrail and a cover that cushions the base of the trampoline are what give parents a feeling of security for their baby. It becomes more accessible for the baby to maintain balance by holding the handrail while having fun on the jumping surface.
Another exciting thing about this trampoline is the detachable monster face cover, and your baby can use it as a pillow. But what attracted my baby most was the monster feet slippers. I am pretty sure your baby will love them too. They are cute, comfy slippers available in sizes seven to eleven.
Despite having 3.5 inches of galvanized steel springs to support the bouncing action, it still is tight and rigid, thus hardly bouncing the baby. It is not an excellent bounce trampoline but a safe one. So, overall it is an excellent product to invest in, particularly for the parents who are OK with its little bouncing action. It comes in various other designs such as race car, kitty cat, ladybug, and monkey. You can easily fit it into your yard or indoors due to its small size.
Its single user weight limit is 75 lbs. and recommended age is 3 to 7 years.
4. Skywalker Mini Trampoline with Enclosure Net (best bounce trampoline)
This mini trampoline gets your babies hooked with it for quite some time, providing them recreation and learning at the same time. It is structured, keeping your baby's safety at the top. Stretch bands in place of steel springs are used to avoid any discomfort to your baby. And they work great, making it the best backyard trampoline. A padded round handlebar and the enclosure net, directly sewn to the mat with no gaps, provide additional safety and stability in case of bad bounce.
The net is of cheap quality as my baby ripped it off too early. An important thing to mention is that I found the assembling of this trampoline quite exhausting and time-consuming. Taking someone's support might help. The jumping bed is designed in patterns that encourage babies' learning, such as animal recognition and number identification.
Another thoughtful feature is the covering of the lower portion to keep babies from going under the trampoline. This Skywalker Trampoline is somewhat delicate and will not last long if used roughly or exposed to climate changes.
The small size of this trampoline will quickly let you squeeze it into your little yard. It comes in different colors and mat patterns. Its frame has a warranty of 3 years, while other materials possess a 1-year warranty.
5. Little Tikes 3′ Trampoline
This trampoline is designed for babies from 3 to 6 years of age interested in more indoor activities. It is an excellent way to keep them away from screens. It supports 55lbs. of weight, and only one child is recommended at a time. The good thing about this product is its easy-breezy assembly. You can easily keep it inside your house or backyard due to its compact size.
It has a handlebar to make your baby learn to balance with safety. The exciting part is you can remove the bar if your baby can manage without it. It will give him more space to bounce and have fun. It is a Springfree trampoline that uses stretch bands instead of metal springs.
One of my relatives bought it for their baby, and unfortunately, their experience turned out unsatisfactory in terms of quality. They complained that the safety pad cover does not fit properly and comes out every time the baby jumps on it, leaving spaces for him to get stuck in and fall. The foam on the safety bar is of cheap quality and ripped apart in very little time. Thereby, it is not wrong to say that the safety features lack durability.
You need to check on screws as they loosen up with jumping. So, the Little Tikes 3' Trampoline lacks the expected reliability and durability.
6. Galt Toys, Nursery Trampoline, Toddler Trampoline for Kids
This nursery trampoline is a healthy and fun addition to burn off energy for babies from 12 months and above. This product helps your baby develop their muscles and build confidence through bouncing from a very young age. It may not be the most bouncy trampoline, but it is adequate for a toddler from a safety point of view.
This trampoline features a padded cover around the base, foam grip on the handle, and rubber feet to ensure it does not tip over when the jumper jumps on it. It claims to sustain 44 lbs. but the trampoline's quality does not meet the expected weight capacity. One of my friends reported that the jumping trampoline mat frayed away from the padded frame cover within a few days instead of following the weight guidelines. Secondly, the baby easily tears up the handle grip, which means some parts are not durable.
Two persons are required to put this trampoline together in one unit. It is available in two designs, turtle and unicorn. You can keep it in your yard as the frame, padded mat, and rubber feet can resist climate changes.
7. Upper Bounce Rectangle Trampoline Set (best home trampoline for gymnastics)
This Upper Bounce Rectangle Trampoline is the most incredible outdoor activity your baby will love to invest his energies in. A high-quality jumping mat, heavy-duty steel frame, spring covering, foam pole grips, and safety pad make it the best heavy-duty trampoline.
What adds further to its feathers include powder coating of metal parts and galvanized steel springs, making it suitable for all seasons apart from snowy weather in which it may deteriorate faster. The rust-free springs support maximum bounce. Thus, you can consider it the best home trampoline for gymnastics.
It has the best trampoline enclosure system, i.e., a dual closure with latch clips and a two-way zipper. Moreover, no gaps are left in the safety net, making it even more secure for your baby. It is available in 8' x14' size and supports around 500 lbs. It is designed for multiple jumpers making it one of the best 8ft trampolines.
I faced a problem with the shipping. The seller sent me incomplete rectangular trampoline parts, which I managed to claim from the company. You may also feel the need for the anchor kit. It is rectangular trampolines, but its size is fantastic to fit into your small yard.
8. Giantex 7 Ft Kids Trampoline (best trampoline enclosure)
This trampoline works pretty well besides certain drawbacks. The overall structure seems quite sturdy except for the spring padding, which deteriorated quickly, leaving stuck spaces for jumpers. If we ignore this, the other features like the seamless enclosure net design with the jumping mat and L-shaped zipper with a fastener offer a safe activity center for your baby.
This fitness trampoline gives a fantastic experience of slam jumping with its polypropylene jumping mat and exceptional elasticity through thick and rust-free springs. Its galvanized frame prevents it from deformation, ensuring durability. The triangle-shaped base strengthens it, further increasing its solidity.
The 360-degree dense enclosure net provides your baby a comfortable and safe zone to play in. it protects him from falling off the trampoline. Therefore, it helps to promote bone health through frequent jumping.
One thing that disappointed me a lot was the max weight capacity, which was described as 275 lbs. at the time of purchase, but it changed to 130 lbs on the user manual. This information is dangerously misleading. After making certain efforts in this regard, I realized that its actual capacity was 275 lbs.
9. Galt Toys, Folding Trampoline (best trampoline for small yard)
What size trampoline do I need to buy for my toddler? This Galt Toys Trampoline is the answer if you are overwhelmed with the numerous models and sizes. It is such a firm and sturdy best backyard trampoline that you can count on it for your baby to have a safe and happy playtime. It is one of the best trampolines for small spaces if the large size concerns you. It has a weatherproof jumping mat to keep it in your yard quickly. You will find it reasonably portable due to its lighter weight.
The handle provides a stable and fun jumping experience for your baby. Foam grip, rubber feet, and the weather-resistant frame increase its durability. It can hold up to 55 lbs. and is appropriate for children three years and above.
The best thing about this best backyard trampoline is its no-fuss storage. You can fold it by detaching the handle and legs. One thing that may bother you is loosening the screws through frequent jumping that will need regular tightening. Another fault that one of my relatives experienced was the non-alignment of the holes in the handle, making it difficult to fix the screws.
10. Rectangle Indoor/Outdoor Trampoline by JUMP POWER
It is an awesome trampoline with sturdy construction and a safe design for extended play-time. Your kids will certainly love it. The bars are covered with foam grips and springs with thick pads to protect against accidents. The safety enclosure net with a zipper and high quality jumping mat keeps the jumpers secure inside while bouncing or even when taking a swing.
Its galvanized springs help to create greater bounce and make it rust-resistant. You can easily keep it outdoors. It will conveniently fit into your small yard due to its reasonably small size. You can even use it indoors.
Swing is what creates more attractions for kids. It makes the whole experience more fun and joyous. You may find it lower for older kids, but you can tie the knots on both sides to make it a little higher.It is available in blue, orange, black, green and white colors with eye-catching prints. Its maximum weight capacity is 100 lbs.
Conclusion
In my opinion, Skywalker Trampolines 10 -Foot Round Trampoline and AOTOB 8FT Trampoline are the best among the different types of trampolines that I explained in my article. They are pricier, but their features, high weight limit, and excellent quality materials set them apart from other trampolines. These best backyard trampolines tend to provide long-term use and are worth the price.
Children mostly like to play with their friends, so you would want to buy the best trampoline with high weight limit. And if you want a small size trampoline for indoor use, then you can not go wrong with HearthSong Jump2It Indoor Trampoline with Adjustable Handle (Best oval trampoline for kids),
This backyard trampoline is a treat for the two that they can enjoy together. It is designed for both solo use and two toddlers simultaneously. Its sturdiness lets kids play safely and develop coordination and physical strength.
It has a handlebar for additional stability, adjustable according to the baby's height. It can reach from 24½-35" in size, which means it grows with your baby. It is the best oval trampoline and easy to keep in indoor spaces. It is not for children under three years, and the maximum weight capacity it can hold up to is 180 lbs.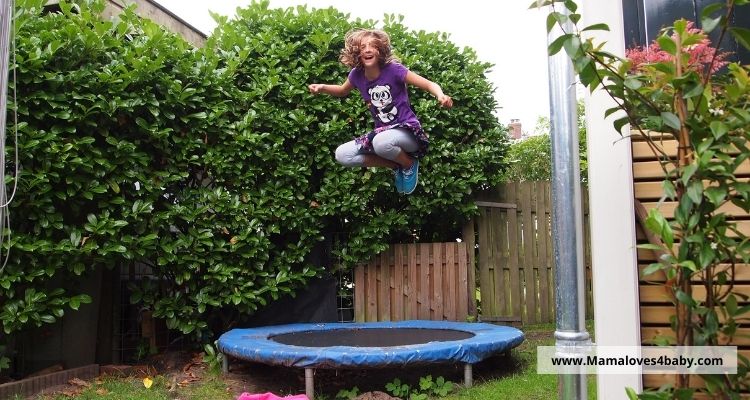 How big is a standard trampoline?
The standard size of any trampoline depends on the age for which one would want to know. How big is a trampoline? Typically, the normal range is 8ft to 15ft, whose average is 12ft. If you go more extensive than 15ft, it exceeds the standard size. Similarly, choosing the smaller ones that are less than 8ft in height will take you towards appropriate trampolines for children. It will help clarify your confusion about what size trampoline do I need?
How to level trampoline?
It would help if you always placed your trampoline on a flat surface to have a safe and better bouncing experience. But if your backyard space is uneven and you are concerned about how to level the trampoline, you can get help from the following.
Wooden plank
Digging a trench
Trampoline leveling blocks (a low-cost method)
Adding extensions to the legs of the trampoline
Cutting trampoline legs
Digging into the sloped ground
How are trampolines made?
Trampolines are prepared using four main parts:
Springs
Frame
Jumping mat
Safety pads
What's the biggest trampoline you can buy?
What's the most giant trampoline you can buy? Sundance 16' x 24' Goliath Gold is the giant trampoline available, with 800 lbs. or more weight limits. It has 260 square feet of jumping surface.
Parents Also Ask
What shape of backyard trampoline is best?
A rectangle trampoline is considered the best in creating more bounce due to its shape. Gymnasts commonly use them. They provide a stable takeoff and landing to the jumper by making springs work independently. Square trampolines work the same way.
Are square trampolines safer than round?
From a safety perspective, round trampolines are safer as jumpers lean towards the center when jumping, which reduces the risk of accidents.
What types of trampolines can be used in the backyard?
Round trampolines are mainly used outdoors. They come in varied sizes that make them easier to fit in even smaller backyards.
How to bounce off a trampoline safely?
While bouncing off a trampoline, you should make use of your hands. Always try to be aware of your location on the jumping mat to perform the tricks safely. The advanced tricks require you to be more conscious and responsive to achieve perfection.
What makes a good trampoline for kids?
A trampoline certified by ASTM and TUV certainly is suitable for your child. It is an international company for testing the products and materials. Remember that safety comes first when buying a trampoline for your bundle of joy, then comes the fun part.