Fireplace baby gates are essential if you have a fireplace in your home. Not only will they protect the hearth and furniture, but they also keep curious little ones away from danger!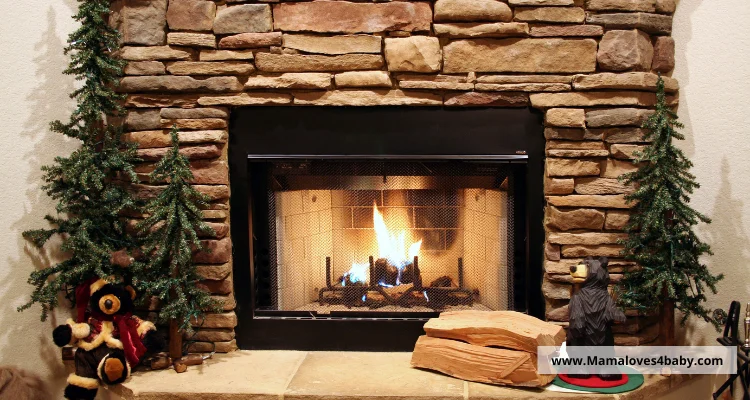 As a parent, one of the difficult things is to keep your child safe. And this can be especially important if you have a fireplace in your home. But don't worry. We've got you covered. In this post, we'll show you the top picks for the best fireplace safety gate and 10 ways that help you learn how to babyproof a fireplace that will help keep your little one safe. So read on and find the perfect solution for your home.
Read Also: Best baby gates for stairs with banisters
How to baby proof a fireplace?
A fireplace is a dangerous place for a baby or small child. They can easily fall into the fire or get burned by touching hot surfaces. Baby proofing a fireplace is crucial to keeping your little one safe.
10 ways to babyproof a fireplace
Here are some tips on how to baby proof a fireplace:
1. Use a baby fireplace gate.
Use a baby corral to block off the area around the fireplace. A fireplace baby gate will help to keep your child safe and prevent them from getting into the fire. It is an excellent idea if you have an open-concept home and can't necessarily watch your little one at all times.
What is the best baby gate for a fireplace hearth?
It depends on the specific needs of your home and family. However, some crucial factors to consider when choosing the best fireplace baby gate include the height and width of the opening, the type of fireplace (wood-burning or gas), and whether or not you have a pet.
If you have a wood-burning fireplace, you'll want to ensure the baby gate you choose has a wide enough opening to accommodate the width of the fireplace. You'll also want to consider the height of the opening, as some wood-burning fireplaces can be pretty tall. Gas fireplaces tend to be shorter, so you may not need a gate with as tall of an opening.
If you have a pet, choose a baby gate that is sturdy enough to keep your pet from pushing it over. You may also want to select a hearth gate with a latch your pet can't reach or figure out how to open.
Ultimately, the best baby gate for your fireplace will be the one that meets your specific needs for a safety locking feature and keeps your family safe.
Our top picks for best fireplace safety gate
If you are wondering how to babyproof a stone fireplace, below are the best safety gates that work like wonders.
Toddleroo by North States 3-in-1 Wood Superyard
It is one of the best fireplace baby gates, as it is both hardware and freestanding. The Toddleroo by North States 3-in-1 Wood Superyard is 151″ long and extra wide, making it perfect for blocking off a fireplace.
It is made from stained wood and has 6 panels and 10 sq. ft. of the enclosure. It is also 30″ tall, making it tall enough to keep your baby safe from the wood-burning fireplace.
This baby fireplace gate also serves as a freestanding pet gate and is the best choice for keeping your baby and pet safe. Due to its hardware mounted feature, you can use it as a barrier or a play yard.
It is also stained wood so that it will match most home decor. The Toddleroo by North States 3-in-1 Wood Superyard is 30″ tall, which is tall enough to provide safety measures from the fire.
Costzon Baby Safety Gate
Regarding baby proofing your home, a fireplace hearth is one of the most critical areas to consider. A baby gate and play yard are great ways to keep your little one away from hazardous heat sources and potential hazards.
The Costzon Baby Safety Gate is an excellent option for those looking for a safe, effective, and best way to babyproof a brick fireplace. This gate is made from sturdy metal and is adjustable to fit various fireplace sizes. It also features a walk-through door, making it easy to get in and out of the room.
If you have a pet that you want to keep away from the fireplace, this gate is also a great option. Overall, the Costzon Baby Safety Gate is a great way to keep your little one safe around the fireplace. It is made from durable materials and is adjustable to fit a variety of different fireplace sizes.
This baby safety gate is made from durable steel and plastic for long-lasting use. It's a great way to keep your child safe around the fireplace or BBQ. The gate is adjustable to fit most fireplaces and has a walk-through door for easy access. It's also easy to assemble and disassemble for storage.
Bonnlo 120-Inch Wide Metal Baby Safety Fence
The Bonnlo 120-Inch Wide Metal Baby Safety Fence is an adjustable, 5-panel playpen that can create a safe space for your toddler or pet. Made from metal, it is sturdy and durable, making it ideal for use around fireplaces, BBQs, Christmas trees, or anywhere else you need to create a safe space.
The panels are also adjustable, so you can customize the playpen size to fit your needs. With its wide width, the Bonnlo baby fence is perfect for use in larger rooms or outdoors. Plus, it's easy to assemble and disassemble so that you can take it with you.
Regalo 192-Inch Double Door Super Wide Adjustable Baby Gate
The Regalo 192-Inch Double Door Super Wide Adjustable Baby Gate is a broad and tall walk-through gate that is perfect for those looking for a versatile solution to childproofing their home.
It is made from durable steel. This gate can be used as a play yard, room divider, or fire place guard. Among other best fireplace baby gates, it features a swinging door that allows for easy access and has a four-point locking system that keeps little ones safe and secure.
With its easy-to-use design, the Regalo 192-Inch Double Door Super Wide Adjustable Baby Gate is a must-have for any parent.
2. Use a fireplace glass door for baby proofing.
A fireplace glass door is a great way to baby proof your home. It provides a barrier between your child and the fire and is more aesthetically pleasing than a baby gate.
A fireplace glass door is an effective way to prevent accidents and injuries. Additionally, It can be used to teach your child about fire safety. If you have a gas fireplace, remove the glass doors. It will help improve airflow and make your fire burn hotter.
Tip: You can also use glass doors to help control the fire. You can temporarily close the doors to bring down flames that are too high.
3. Remove anything flammable
Make sure to remove anything flammable from around the fireplace. It includes things like newspapers, blankets, and books. Moreover, parents should keep all flammable liquids far away from the fireplace, including matches, lighters, and gasoline.
4. Use fireplace screens
A firescreen will prevent sparks and embers from flying from the fireplace. Put a childproof screen around the fireplace and make sure that the fireplace is properly screened. It will help to prevent your child from getting too close to the fire.
5. Install a carbon monoxide detector
If your home has high levels of carbon monoxide, a carbon monoxide detector will notify you. It is essential to have because carbon monoxide is odorless and invisible, and it can be deadly. And it will help alert you to any dangerous gases that may be present.
First Alert CO400FF Battery Powered Carbon Monoxide Alarm
If you're looking for a reliable carbon monoxide detector, the First Alert CO400FF is an excellent option. This battery-powered alarm is easy to install and provides continuous monitoring of CO levels in your home. It also features a loud 85-decibel alarm that can be easily heard in an emergency.
The First Alert CO400FF is also equipped with an end-of-life timer, which alerts you when it's time to replace the alarm. It is a great feature, ensuring that your carbon monoxide alarm is always working correctly.
Overall, the First Alert CO400FF is an excellent carbon monoxide alarm and a great value for the money. It's easy to install and use and provides reliable protection against carbon monoxide poisoning.
6. Keep matches and lighters out of reach.
It's essential to keep these items out of your child's reach so they can't access them.
7. Get a best in home fire extinguisher.
It is essential to have a fire extinguisher in case of an emergency. Make sure to get one that is specifically designed for use on fires, and keep it in a place that is easily accessible in case.
Amerex B500 Fire Extinguisher
8. Install a chimney balloon
The cheap way for to babyproof a fireplace is to install a chimney balloon, a unique device you can put in your chimney to help prevent heat from escaping.
Chimney Balloon®
9. Educate your child
Educate your child about fire safety. It's important to talk to your kid about fire safety and what they should do if they see a fire. Teach your child about fire safety. It includes things like not playing with matches, not throwing something into the fire, and not touching hot surfaces.
Never leave your crawling baby unattended near the fireplace. Even if you think they're old enough to understand fire safety, it's always better to err on caution.
Read Also: How to block stairs without baby gate, The ultimate guide on how to baby proof cords?
10. Get a fireplace insert.
If you are looking to babyproof a marble fireplace, Consider getting a fireplace insert. These devices will prevent sparks from flying from your fireplace and starting fires elsewhere in the house.
Perform regular maintenance checks of your fireplace
Please do a few things regularly to ensure your fireplace stays in good working condition.
First, you should check the chimney's condition and ensure it is debris-free.
Secondly, you should check the flue's condition and ensure that it is clear of any obstructions.
Finally, you should check the fireplace's condition and ensure no cracks or damage. If you find any damage, you should repair it immediately to prevent further.
Following these tips, you can help keep your curious baby or small child safe from harm around a fireplace.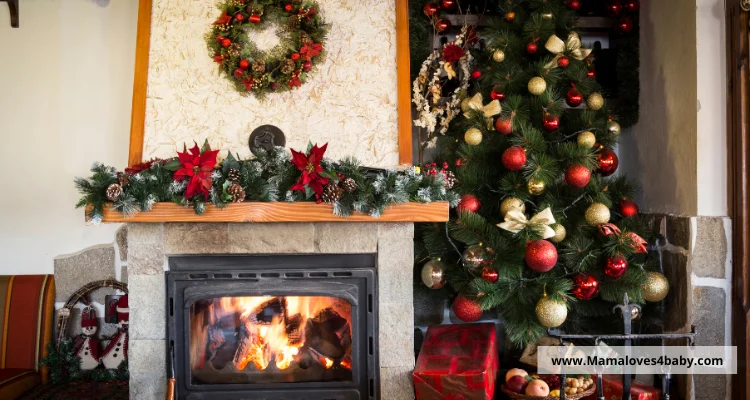 Conclusion
While a baby gate for the fireplace is a safety precaution, choosing the right one is also essential. We've helped you narrow your choices by providing our top four picks for the best baby gates for fireplaces and wood stoves. So we've got you covered whether you're looking for a pressure mounted gate, hardware mounted gate or even an intelligent stay-open door with wall mounts.
What Should I Look for in a Fireplace Baby Gate?
When choosing the right baby gate, there are several factors you should keep in mind.
First, consider the size of your fireplace and your baby or toddler. You'll want to ensure the gate is tall enough to prevent your little one from climbing over it and wide enough to fit snugly in front of your fireplace.
Another essential factor to consider is the material of the gate. Some gates are made of wood, while others are made of metal or plastic. Every material has advantages and disadvantages, so make sure you choose the right one for your family.
Finally, think about how easy the hearth gate is to use. You'll want something easy to open and close to access your fireplace without the hassle. And, if you have pets, you'll want to ensure the pet gate is easy for them.
With these factors in mind, you can find the best baby gates for your home.
Types of fireplace baby gates
When it comes to baby proofing your fireplace, there are various types of baby safety gates that you can choose from. Look at some of the most popular options on the market:
Pressure mounted gates
These are one of the most popular fireplace baby gates because they are easy to install and remove. They are also very affordable. However, they are not the most reliable option because they can be pushed over easily.
Hardware mounted baby gates
These hardware mounted barrier are more permanent than pressure-mounted gates and are much more difficult to remove. They are also more expensive. But they are much more reliable and offer your child a higher level of protection.
Custom gates
If you have an irregularly shaped fireplace, you may need to get a custom gate made. These are more expensive than the other two options, but they will provide the best fit and the highest level of protection.
Fireplace screen
These are not technically baby gates, but they serve the same purpose. These fireplace doors are placed in front of the fireplace to prevent your child from getting too close. They are usually made of metal or glass and can be pretty expensive.
Chimney caps
These are placed on the chimney to prevent your child from climbing up. They are less common than the other options but can be very effective. You can also use carbon monoxide detectors and smoke alarms to ensure child safety.
Which type of fireplace gate is best for you will depend on your parent's preferences and needs. A pressure-mounted gate is a good choice if you want the most affordable and easy-to-install option.
For parents looking for the most reliable option, hardware mounted baby gates are the way to go. And if you have an irregularly shaped gas fireplace, a custom baby gate may be your best bet.
Whichever type of baby fireplace gate you choose, ensure it is properly installed and meets all safety standards. Also, be sure to supervise your child closely when they are near the fireplace.
How to Babyproof a Fireplace Hearth?
The hearth is where kids can get dirty and messy and have accidents. It's not surprising that as a young performer, I used to scrape my knees on many occasions when performing in front of our old rough-textured fireplace.
A few years ago, she bought this beautiful new wood-burning stove while living at home with mommy dearest. Still, unfortunately, it came without any kindling or logs, so we had no way to light up the fire except by dragging buckets full over there from across town, which was quite tricky during winter time.
Ways to babyproof fireplace hearth
If you have a fireplace to warm your home, chances are you have a hearth. And if you have a young child, chances are you're looking for the best ways to make your home safer and child-friendly. Fortunately, you can take a few easy steps to babyproof your fireplace hearth.
Foam hearth cover: Baby Safety Foam Soft Seat Edge Cushion Fireplace Hearth Guard Bumper Pad Child Proof Padding
One way is to invest in a foam hearth cover. These covers are soft, dense foam that cushions any falls and protects against bumps and bruises. They're also easy to clean and come in various colors and styles to match any decor.
Soft edges : Bebe Earth Baby Proofing Edge and Corner Guard Protector Set
Suppose you have a soft, adorable little one who likes to explore on her hands and knees. Then they mustn't get hurt. To prevent injuries, keep your fireplace hearth covered or padded with long tube protectors so babies cannot trip up while crawling around in search of fire trucks! You can also purchase corner guards, which will cover just what we need; hard edges free from danger
Block off the hearth area
Another option is to use gates to block access to the hearth area. Gates come in all shapes and sizes. You can also use furniture or other large objects to block off the area. These precautions can help ensure your fireplace hearth is safe for your little one.
How to make a babyproof fireplace pad?
Making a babyproof fireplace pad is an easy and affordable way to keep small children away from the hot surfaces of a fireplace. Follow these steps to make your own:
Measure the surface of the fireplace you want to cover. Mark the measurements on a piece of cardboard or other sturdy material that can act as a template for cutting your fabric.
Cut out the template and use it to cut the desired size of your fabric. If necessary, stitch multiple pieces of fabric together to get the right size for your fireplace cover.
Place a sheet of foam on the opposite side of your fabric and pin together using safety or straight pins.
Using a sewing machine, sew the edges of your fabric and foam together to secure them in place. Be sure to use a zigzag stitch for extra durability.
Place your finished pad onto the surface of your fireplace and secure it with adhesive tape or Velcro strips. Make sure it is firmly secured in place to prevent sliding or slipping.
Your babyproof fireplace pad is now ready to keep your children safe and away from the hot surface of your fireplace. Enjoy!